It's January and most of us have some New Year's Resolutions to kick our bad habits. Not surprisingly, the number 1 resolution for most people is to lose weight and eat healthy – especially post festive season, when over indulgence has caused many to pack on the kilos! Avoid being one of those whose New Year's Resolutions fail by taking a realistic approach to your New Year Diet Resolutions:
Here are some tips to achieving your healthy eating goals this New Year:
Be specific
Making vague or open ended resolutions often results in failure as you don't know where to start and don't have accountability, so be specific about actions you want to change. Goals like 'I want to eat less fast food,' 'I want to eat more vegetables,' 'I want to eat less sugar,' 'I want to learn to eat smaller portions', are better places to start from than 'I want to eat healthy'.
Take it slowly
Don't try to build Rome in a day! Any diet change is easier to achieve if you take slow, small steps rather than trying to drastically overhaul your life in one day. For example, add just 1 piece of fruit to your lunch box each day; cut down on sugar in your tea or coffee; cut out starches from your evening meal. These small steps taken every day add up in a huge way.
Drink more water
It's cheap, fat-free, fills you up and is great for your skin, but some people find getting the recommended 8 glasses a day down to be extremely difficult. Find ways to add extra water to your daily routine in the most painless way – put a glass of water next to your bed and down it first thing in the morning  and drink a glass of water first before you have soda or alcohol. Keep a buddy bottle with you at your desk and in your car so you can sip away whenever you get the urge.
Eat colourfully 
The more colourful a food is, the more likely it is to be  packed with disease-fighting plant compounds. So make sure all your meals are colourful and diverse! You can start by picking one colourful fruit or vegetable that you have never tried before every time you go to the store. Salads and fruit salads are easy ways to get lots of colourful produce in!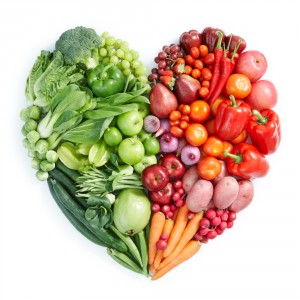 Banish mindless snacking
It's all too easy to overeat when you are not paying close attention to what you are putting in your mouth – like when chatting with friends or watching television. Eating out of boredom and thoughtlessness adds totally unnecessary calories to your daily intake. Take mindful steps to avoid this – chew gum and/or keep your hands busy when in those kinds of situations. If you do need to snack make sure that what you are nibbling on is not harmful – vegetable crudites are a good option.
Failing to plan is planning to fail
Make sure you plan ahead and have strategies to help rather than hinder you in realising your goals. You can do this by buddying up with friends or family members who are also dieting to keep up motivation and accountability. Don't buy or keep 'bad' foods in your home, it's unrealistic to expect that you will never be tempted, so make sure there is nothing available to lead you astray when you are!
These strategies in addition to common sense like getting some exercise and enough sleep will set you on the right path to achieving your diet aims.
Dining-OUT has a number of health and organic restaurants on offer, Organic at Heart in Plumstead, 65 on Main in Greenpoint (banting restaurant), Aurelie's Café in Midrand, Essence Deli-Café in PMB,  Gingko Good Food in Parkhurst or Leafy Greens Cafe in Muldersdrift to name but a few!
Here is to a happy and healthy 2015!