For the banters out there, the most common craving seems to be for bread. Whether it's the satisfyingly weighty chewiness of thickly sliced fresh bread or the crunchy crispiness of hot toast, bread seems to hit the spot like nothing else.
But instead of torturing you further with imagery of the forbidden, here is a solution: banting-friendly bread made with coconut flour.
Coconut is an extremely under-rated fruit, with a truckload full of health benefits. It contains Lauric Acid, which is quickly absorbed and used as an instant energy boost. It's also antibacterial, anti-fungal and a great stomach cleanser. It can even help to lower cholesterol and boost thyroid function, speeding up your metabolism.
So without further ado, here is how you make this wonder bread:
Ingredients
       1 cup coconut flour
       6  eggs (whisked)
       ½ cup organic extra virgin coconut oil (melted)
       ¼ cup full-fat canned coconut milk
       ½ teaspoon sea salt
       1 teaspoon baking soda
       Coconut oil or spray
Steps:
1. Preheat oven to 180 degrees.
2. Spray baking pan with coconut oil or spray
3. Combine dry ingredients
4. Mix wet ingredients together in a mixing bowl
5. Add the wet ingredient to the dry ingredients and mix well
6. Pour the mixture into baking pan and bake for 45 minutes
7. Let the bread cool.
8. Eat and enjoy!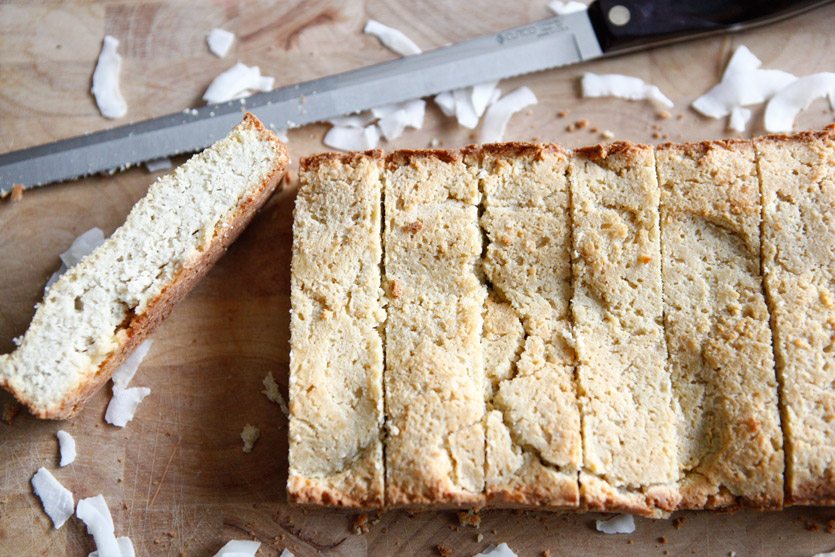 If you're a serious banter, you may even enjoy this with a mug of bulletproof coffee (that's butter in coffee, for the uninformed).
So did this recipe ease your carb craving? Let us know!