Whether you're a businessman looking for a freshly-brewed coffee-on-the-go, a caffeine connoisseur or simply enjoy catch-ups over cappuccinos,  it can be tricky to find the best coffee shops in town. As there are so many quaint cafes, patisseries and bakeries providing you with that morning or mid-afternoon  caffeine fix, it is difficult to decide upon just one. To make your lives a little bit easier, we have compiled a list of quaint restaurants in Cape Town for you to try out.
You know you're in for a caffeine treat  when you become aware of Origin's philosophy, 'wake up and taste the coffee'. This De Waterkant restaurant takes the art of coffee making seriously and is a hotspot for many a caffeine aficionado.
This is not your run-of-the-mill coffee shop but is an artisan roastery which strives toward caffeinated excellence. Upon your visit, sample the finest single Origin varietals on display, and be sure to take some away for a home-brewed treat for later.
If you are more of a tea drinker, the Nigiro Tea space provides you with a tranquil, zen-like setting while you slowly sip on loose-leaf cups of tea.
Café Mozart in the CBD is the ideal for that morning cup of coffee. Patrons can take a seat on one of the outside tables and watch on as the city springs into life, while sipping on a classic Americano or café latte.
Mozart Café is ideal for a weekend gathering with friends or provides refuge to the city-dweller who's looking to savour a quick cuppa before heading to the office.
If tea is your hot beverage of choice, the Toni Glass Silk Collection is a must-try.
It's always a novel experience to ride the train to Simon's Town on an early Saturday morning. If you happen to find yourself en route, be sure to make a quick pit stop at St James.  This nondescript suburb is home to the eclectic Octopus Garden.
If you're looking for a conventional ambience, you won't it at at the Octopus Garden. Instead, you'll feel right at home with their mismatched collection of  enchanting Knick knackery. Wile away the afternoon with cups-upon-cups of Italian coffee accompanied by their decadent, town-famous brownies.

Newland's Gardeners Cottage, set in amongst the speckled shade of towering willow trees, is a tranquil spot to enjoy high tea or  some freshly-brewed coffee.
Accompany that beverage with a slice of lemon meringue tart or if you're a chocolate-lover, you can't go wrong with a piece of rich, chocolate roulade.
Following that cuppa coffee or pot of tea, take an amble through the grounds. As Gardeners Cottage forms part of the Monte Bello Design Centre, the venue boasts an array of craft shops, art studios and landscaped gardens.
Aromatic smells of freshly-roasted coffee and straight- out-of-the-oven breads waft out of the doors of Doppio Zero, inviting passer-bys to come on inside and linger longer.
This restaurant located in the city bowl is renowned for their authentic Italian Caffe. It is a place where Italian holidaymakers visit and reminisce over their home-grown coffees.
Slurp on Doppio Zero's signature cappuccinos, or on those summer days, cool off with an iced coffee.
A word that is best used to describe Isabella's is 'bohemian'. A visit to this wondrous coffee shop in Durbanville will be characterised by vibrant colours, bold patterns adorning the walls and eclectic décor- certainly the type of place the 'mad hatter' would approve of.
For those bleary-eyed customers in need of some strong coffee, a Piccolo Latte will provide you with that well-needed pick-me-up. If you're wanting the taste of coffee without the added caffeine, try out the decaffeinated 'Baby Chino'. Renowned for their cup cakes, we suggest you give those sweet treats a try too.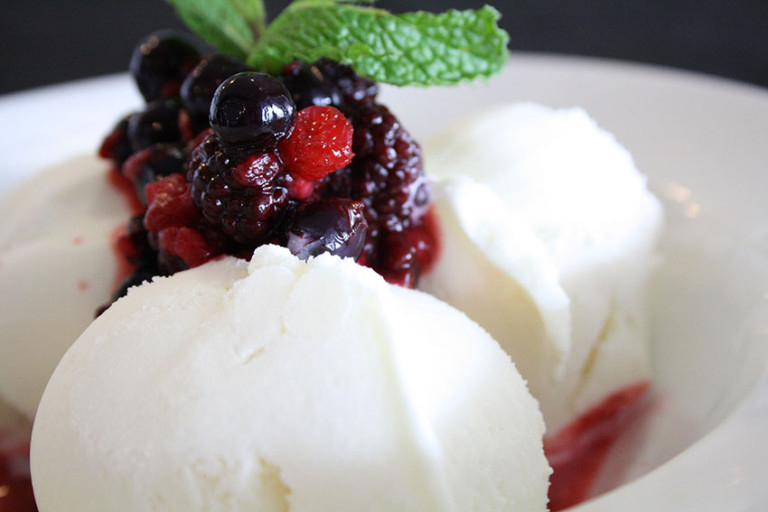 Who would have thought that you'd be able to enjoy a quality coffee and tea-time treats at a restaurant renowned for its seafood?
At Bertha's you can enjoy a spot of tea or coffee while nibbling on an Eton Mess – an indulgent treat of crumbled meringue, berries, ice cream and cream all meshed up together. If you're more of a traditionalist, scones with jam and cream are up for the taking too.

While grabbing a coffee-on-the-go is convenient, it's always nice to enjoy a leisurely coffee at the opulent Camp's Bay hotel, 'The Bay'.
Coffee-lovers will enjoy freshly-roasted mugs of the good stuff, accompanied by baked goods prepared by a team of reputable pastry chefs. If you're looking for hot beverage other than coffee, the decadent hot chocolate topped with marshmallows is simply delicious.