Have you ever been to a restaurant and been wholly confused and amused by the 'engrish' on the menu? Here are some of our favourite funny menu bloopers:
Poor grandma.
Maybe skip dessert?
Hmm. What kind of disabilities could a bean have?
Well, if you don't know what it is, we definately don't.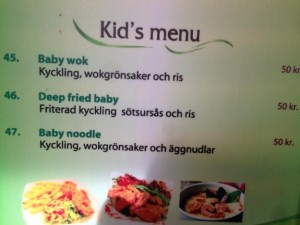 Do they understand that a 'kids' menu  is meant to be FOR kids, not made FROM them?
One confused pizza with a lucid salad, please.
Right.
I'd probably also be irritable if my kidney was scalloped.
Cheque, please!