Franschhoek, one of South Africa's leading food and wine destinations, will once again be hosting the annual Bastille Festival this coming weekend, the 13th and 14th of July. This Festival is a highlight in the year's social calendar, and 2014 marks a major milestone as it celebrates its 21st birthday!
In case you don't know, the Franschhoek Bastille Festival pays respect to the Valley's centuries-old French Huguenot heritage (Bastille Day is the name given in English speaking countries to the French National Day or La Fête National).
The highlight of this year's festivities is a performance by a fantastic troupe of dancers and musicians from the Seychelles (a country with a similarly strong French heritage). These talented performers will take their dancing to the streets on Saturday's street parade, and they will perform in the Food and Wine Marquee on both days.
The Seychellois dancers will also be acting as judges for the major festival competition. To enter the competition, brave festive goers need to dance the 'Sega', a traditional Seychellois dance. Not feeling quite brave enough? Maybe this will motivate you to dust off those dancing shoes: The prize for 'The Best Seychelles Dance' is two return tickets and six nights luxury accommodation in the Seychelles. Just FYI, the Seychelles is at the equator and summer all year round. I think we would all like a piece of that right about now!
In addition to the dancing, food and wine, you can look forward to some popular annual attractions such as the Franschhoek Boules Tournament, the Delta Valley Entertainers Parade and the Porcupine Ridge Barrel-Rolling Competition. Other favourites include the Farmers Markets and the French Film Festival at Le Quartier's Screening Room. There will be musicians and carnival performers to add to the festive atmosphere.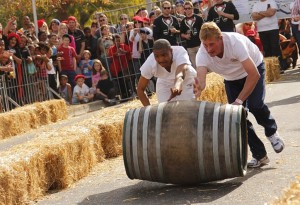 Fyndraai at Soms-Delta Wine Estate, Bistro Allee Bleue, Pierneef a La Motte  and many others will be participating in the Bastille festivities. Check out a full list of Franschhoek restaurants here.
While you're at it, why not stay over in Franschhoek so that you can eat, drink and be merry without worry? Have a look here for accommodation in Franschoek.
So don your red, white and blue and indulge your joie de vivre this weekend!