Delaire Graff Restaurant is well known and loved by South Africans and now people world over are giving it the recognition it deserves! Delaire Graff – whose speciality is approachable fine food with fresh and vibrant flavours in the most beautiful surroundings  – has recently been named one of the Top 25 Most Amazing Restaurants in the World on Food Planet!
Food Planet set out to find restaurants which offer a "a spectacular, breath taking, and mesmerizing and a once in a lifetime experience". It's  not hard to see why Delaire Graff made the cut: overlooking a sea of vineyards and olive groves planted on the Simonsberg, the views span all the way into the Banhoek Valley. The restaurant deck is shaded by a canopy of pin oaks and by night, lit up by a thousand sparkling lights. Inside the restaurant, the David Collins Studio designed interiors include curving orange leather banquettes and handpicked art.
Delaire Graff joins the likes of the Ithaa Undersea Restaurant in the Maldives, which is 16 feet below ground level, with a frontline view to the inspiring sights of the depth of the ocean.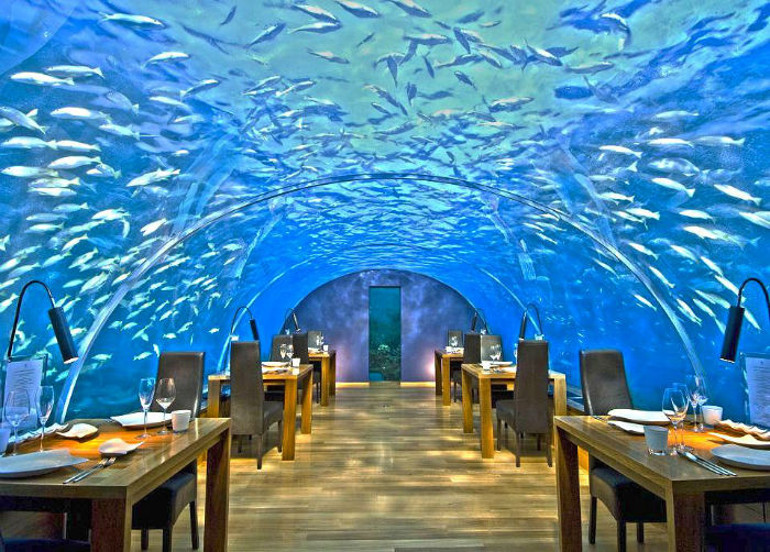 It also joins Sirocco restaurant in Bangkok, situated on the 63rd floor rooftop of the luxurious Lebua Hotel in Bangkok with a spectacular panoramic view of the Thai capital.
Another restaurant on the list,  Le Kuklos in Switzerland,  is a revolving panoramic restaurant, which completes a full cycle every 90 minutes, giving its visitors the opportunity to enjoy the full range sights visible from its location on a 40,000 feet high mountain top.
An amazing accolade for an amazing restaurant.