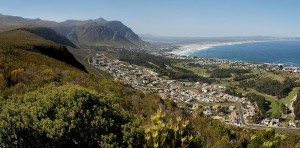 This month, quite by chance, our collection of new restaurants is dominated by delightful eateries in the small seaside village of Hermanus. Located in the Overberg region of the Western Cape, just 2 hours from Cape Town, Hermanus is not only a scenic little place well-known for it's land based whale-watching, but a well connected one too. The Hemel-en-Aarde (heaven and earth) Valley is an up and coming wine producing area just down the road and home to cellars on the Hermanus Wine Route include Creation Wines, Hamilton Russel and Arumdale among others. This should please restaurant connoisseurs and amateurs alike as everyone knows food often tastes better when paired with a glass of the good stuff.
Furthermore, small agricultural enterprises just outside Hermanus mean that much of the produce used in the restaurants and coffee shops are fresh, local and delicious. So, next time you're in Hermanus, be it for a lazy weekend with time to spare sipping the best coffees in town and sampling bistro food or a whale-watching day trip with just enough time to squeeze in lunch, consider checking out one of these eateries.
The Daily Bread

The Daily Bread owners describe the eatery as a combination of "the bakery on the corner, your local delicatessan and the trendy espresso bar everyone tweets about.' Located just meters from Voelklip beach, if mingling scents of fresh sea air and espresso don't wake you up, we don't know what will.
La Pentola
Dining at La Pentola involves sweeping views of Walker Bay and fusion cuisine prepared from scratch. The menu pleases all taste buds with a variety of fresh seafood (caught daily), mature prime cuts of beef, game dishes and vegetarian ensembles all featuring.





The Original Deli
This little deli, with its fresh, modern decor is an institution in Hermanus. With a choice between a secluded patio or stylish indoor area you'll be happy eating there whatever your mood. The cherry on top is that most of the produce comes straight from the owner's (Sam's) family farm down the road.
Cattle Baron Grill and Bistro
This well-known chain is, as the name implies, a steak house serving up well-loved meaty dishes like BBQ spare ribs as well as delicious seafood offerings like grilled sole brushed with lemon butter. It's position right next to the harbour means the fish couldn't be fresher. The established reputation ensures great meat dishes while the lively harbour atmosphere makes the place feel alive.





Fabio's Ristorante

Fabio's is a delightful looking Italian spot complete with red-checked table cloths. The cooking is heavy on the garlic, wine and olive-oil and the sipping of after-dinner liqueurs like Limoncello and Averna is encouraged.