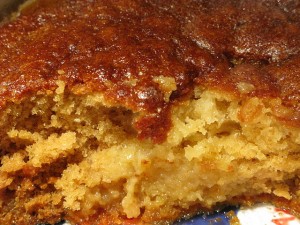 There is nothing like a warm, decadent pudding to warm up a cold winter belly and what better  than a proudly South African Malva Pudding? Malva Pudding is of distinct Cape Dutch origin and the name originates from Malvasia Wine, which used to be served together with this dessert after the main course at Cape tables.
For many of us, Malva Pudding is synonymous with family and home comforts and with this simple and easy recipe you'll be serving up your very own in no time.


Ingredients
1 tablespoon butter
½ cup of sugar
1 egg
1 tablespoon apricot jam
1 tablespoon vinegar
1 cup flour
1 teaspoon bicarbonate of soda
Pinch of salt
Sauce
125 g butter
¼ cup sugar
65ml water
¾ cup of cream
1 teaspoon of vanilla essence
Method
Turn oven to 180° Celsius. Cream the butter and sugar together in a mixing bowl. Then add the egg. Once mixed, throw in the jam and vinegar and later sift in the dry ingredients. When the mixture is well combined, pour into a baking dish, cover with foil (or a lid) and bake for an hour. It should be cooked through but beware not to let it dry out.
Just before the pudding is ready, make the sauce. Melt the butter in a saucepan over medium heat, adding the water, cream and vanilla essence. Stir to ensure ingredients combine well. When you remove the malva pudding from the oven, pour over the sauce and leave it to absorb the syrup for a minute or two. Finally, serve with custard or ice-cream and enjoy!
How did you find this recipe? Worth repeating? Do you have a better one?