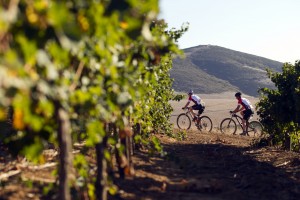 Rhebokskloof Wine Estate, situated in the magnificent Paarl Valley has taken advantage of its prime location and launched dedicated single track routes in the vineyards and slopes on either side of the farm.
The Paarl Mountains are already well known by local riders as a prime mountain biking spot with outstanding views and Rhebokskloof can now boast the most scenic trail route with views over Noord – Agter Paarl.
Rhebokskloof and Wines2Whales director, Johan Kriegler,  teamed up to develop a 15 km trail route, of which approximately 12 kms is an adrenalin pumping single track. Within this 12 km single downhill track, there are about 70 landscaped terraces and switchbacks, making it an exhilarating ride.
Bikers who prefer a longer distance ride can undertake a 20 km loop into the adjacent Paarl Mountain reserve which results in a 35 km track in total. This route complements trails in Welvanpas and Paarl Mountain Reserve.
The routes are clearly marked and were constructed by Hans Degenaar and a local trail building team.
After an action packed trail, riders can refuel with a delicious breakfast or lunch at Rhebokskloof's famous restaurant, the Rhebok.  The restaurant is family friendly and offers extensive lawns, a children's play area and an outside terrace.
On cool or rainy days, visitors can get cosy inside next to one of the two fireplaces. There is also a lovely lounge area and a selection of decadent winter meals. The latest addition to the restaurant is the design corner where local interior designer Salome Knijnenburg's décor items can be seen and purchased.
It costs R30 per person for a rider's permit, which can be used between 08:00-17:00 on weekdays, 07:00–17:00 on Saturdays and 08:00-16:00 on Sunday. If you buy a year permit for R200, you can ride all week from 07:00. For more info about the track,read here.
This track is brought to you by Rhebokskloof Wine Estate (Winery, Restaurant, all round awesome venue); MTB Adventures (Wines2Whales Event Organisers behind the scenes); PaarlMTB Club (Local Mountain Goats, Recci & upkeep of the trail); Trail Builders Johan, Hans & Focus.
Watch this video of the track here!