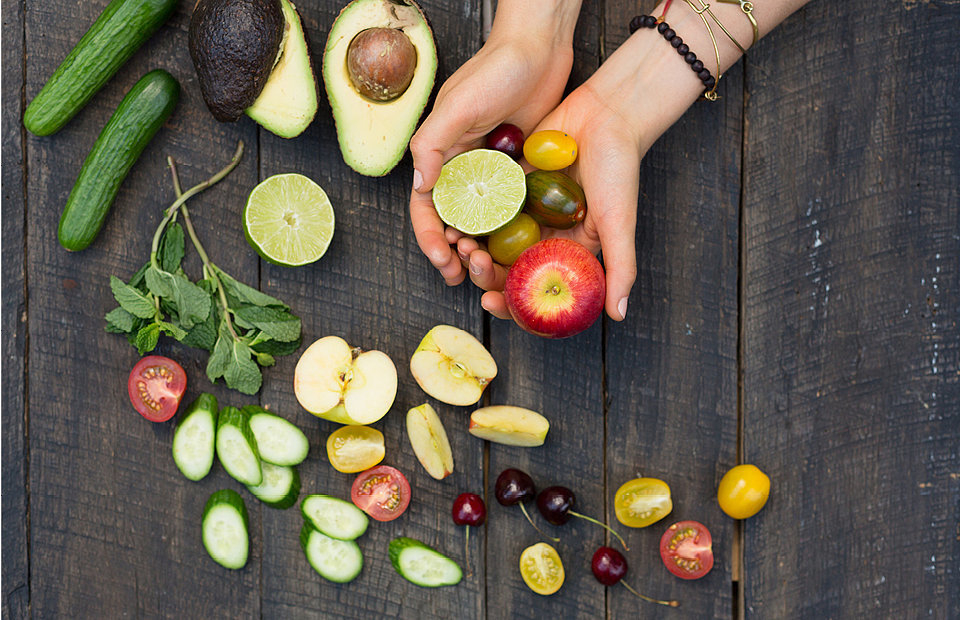 Christmas and New Year's have passed – two guilt-free days of complete overindulgence. With the year well underway, it's time to rid yourself of that holiday 'boep' with a bit of a detox. Have a look at these nutritious dishes(no we aren't talking about rabbit food here), that will leave you feeling cleansed, happy and healthy.

Blueberry-Coconut Baked Oats

As they say, breakfast is the most important meal of the day. Instead of accompanying that hot coffee with a piece of dried toast or simply nothing at all, treat yourself with a bowl of Blueberry-coconut Baked Oats.
Not only does this colourful, tasty meal fill the spot, but it is easy to make for those rushed mornings before work – give yourself enough time to prep the meal the night before.
Here's what you'll need:
For the 0ats:
One and a half cups (260 grams) of oats
• Half a teaspoon of ground ginger
• Half a teaspoon of fine Sea Salt
•One teaspoon of Baking Powder
•Four cups (950 ml, 32 ounces) of unsweetened vanilla almond milk
•Two cups (480 ml, 16 ounces) of light, unsweetened coconut milk
•One and a half (240 grams) cups fresh Blueberries (frozen OK too, do not thaw first)
• One quarter cup (47 grams) unsweetened dried Blueberries
•One Quarter cup (22 grams) unsweetened Coconut Flake
•Vanilla Stevia Drops or your favorite natural sweetener to taste
For the Blueberry Sauce:
•Two cups (360 grams) fresh or frozen Blueberries
For even more flavour (optional):
•Coconut Flake
•Whipped Cream (vegan or not)
•Extra dried and fresh Blueberries
•Coconut Milk
Method:
Before you start assembling your dish, pre-heat your oven to 180 degrees Celsius. Afterward, lightly coat a baking tray with some spray and cook.
In a large-sized bowl, combine all your ingredients, adding your blueberries and coconut shavings in last.
Sweeten the combination with a sugar-substitute – stevia drops comes recommended.
Bake the mixture for approximately an hour. Once out of the oven you may notice that the oats aren't fully cooked – this is entirely normal. Allow them to cool at room temperature as this allows the consistency of the oats to thicken. For optimal results, refrigerate overnight before eating.
To make your sauce, you'll need to heat your blueberries over a medium-to-high heat. Splash in a flute of water to prevent the fruit from drying out. Leave them to cook until you hear them sizzle, then reduce the heat and continue to simmer for around five minutes. Quickly mash the blueberries before pouring them over your oats. For more flavour, add a splash of almond or coconut milk.

Mushroom and Chickpea Burgers

Lunchtime around the workspace is often characterised by the stale smells of French fries, burgers, chocolate shakes or perhaps a diet coke to placate that guilty conscience. While these meals are quick and convenient, they leave you feeling bloated, overfill and tired.
If your craving for burgers and a side of slap chips are hard to ignore, we suggest you try out a better alternative, a mushroom and chickpea burger (for the practising banters, rest your patty on a bed of greens rather than sandwiched between two buns).
Here's what you'll need:
One tablespoon of olive oil
250g chestnut mushroom, finely chopped
Two garlic cloves, crushed
One bunch of spring onions, sliced
One tablespoon of medium curry powder
Zest and juice and a quarter of a lemon
400g can chickpea, rinsed and drained
85g fresh wholemeal breadcrumb
Six tablespoons of Greek yoghurt
Pinch ground cumin
Two mixed-grain muffin or rolls, toasted and halved
Two plum tomatoes, sliced
Handful of rocket leaves
Method:
Drizzle a teaspoon of oil in a non-stick frying pan at medium heat.  Add your mushrooms, a dollop of garlic and spring onion to the pan and cook for approximately five minutes. Mix in the lemon zest and juice and cook until mixture looks quite dry – for a bit of spice add a spoonful of curry powder. Take the mixture off heat and allow to cool slightly.
Mash the chickpeas in a bowl with a potato masher until you're left with a chunky consistency. Add the mushroom mix and the crumbs, then shape into four patties. Fry in the remaining oil for around on each side until crisp and lightly golden in colour.
Combine the yoghurt with the cumin. Place half a muffin or bun on each plate and smother with the yoghurt sauce. Top with the burgers, a few slices of tomato and a little rocket.
Crudité Platter with White Miso Dip

We have all been there, we hit a mid-afternoon slump, our concentration wades and our tummies begin to rumble. We automatically turn to a sugar-loaded chocolate bar or a packet of Simba crisps for a quick pick-me-up.
If you're looking for something healthier to nibble on, a crudité platter and dip is just the ticket. We know what you're thinking – dried-out, taste-free carrot or celery sticks with bland mayonnaise – think again! The 'Miso Dip' combines a variety of flavour-filled ingredients and the veggies used are varied, innovative and colourful!
As this platter serves eight people, feel free to feed your hungry work colleagues too!
Here's what you'll need:
For the dip:
3 tbsp. white miso paste
⅓ cup Greek yogurt
¼ garlic clove, grated
1-2 tbsp. honey
2 tbsp. rice wine vinegar
½ tsp. toasted sesame oil (optional)
Vegetables:
carrot sticks, assorted colours
sugar snap peas
1 large watermelon radish, sliced thin
cauliflower florets
red radishes, left whole with their leafy green tops
Method:
Combine the dip ingredients into a bowl, starting out with a tablespoon of honey. Whisk well and before adding your remaining honey, give the mixture a taste. The flavour should be a combination of salty, tangy and slightly sweet.
Arrange your vegetables onto a serving platter – to add a little pizzazz to the meal cut the veggies into different shapes, open up a few of the sugar snap pods and sprinkle the peas around the plate.
Serve with the dip and enjoy!

Quick and Easy Flavoured Waters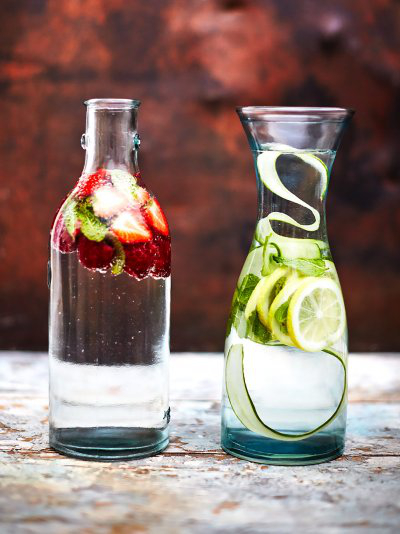 We are at the height of Summer, it's is hot and continually hydrating is essential. For many of us, Coca-Cola is the ultimate thirst quencher. If you're looking for a flavour-filled drink that doesn't rot your teeth, Jamie Oliver has come to our rescue with his DIY flavoured water – pimp out your water with these recipes!
Here's what you'll need:

•Fresh lemon and lime
• One orange
• One handful of strawberries or raspberries
• One handful fresh mint
• Lemon or lime juice
• Cucumber
Method:
Turn room-temperature water into something more exciting with these easy steps:
Get yourself a glass jug and plop in handfuls of ice. Add a few slices of fresh lemon, and squeeze the juice of an orange into your water. For optimal flavour and colour, toss in the now juiceless slice.
Mash up your strawberries with a fork and add them to your water jug, stir thoroughly.
Scrunch up the fresh mint in your hand and infuse into your water. Add cucumber to the mix as an optional extra.
Enjoy this refreshing drink in your overheated office or by the poolside!