Super Rugby is almost upon us, an exciting, nail-biting time for the fans. While we all enjoy being glued to our home television screens, it isn't the same as watching it at a pub with the boys(and girls). At these pubs, one doesn't have to worry about  getting a little bit rowdy and you won't be distracted by the moans and groans of non-rugby fans. If you're looking for a watering hole that offers you camaraderie with like-minded individuals, pub grub and a wide selection of cold brews, here are some of the best pubs to watch all your favourite sports at in Cape Town.


If you walk passed Mitchell's on a Friday evening, you'll notice that it hums with activity, with night revellers sprawling out onto the pavement. If you're looking for a bit of camaraderie with high-spirited individual to enjoy a sport's game with than look no further than this Waterfront-based pub and restaurant.
You can watch a match on the large plasma screens with surround sound, while enjoying one (or more than one if it's going to be a celebratory match) of Mitchell's famous beers. If you're looking to switch up the usual Hansa or Black Label for a craft beer, this is the place to do so. Here you can savour a wide-range of in-house beer, including Forester Draught, Bosun's Bitter, Raven Stout, and many others.
Line your stomachs with Mitchell's classic pub grub – think Ribs baskets, Chicken Schnitzel with crispy fries and sauce, or spicy Portuguese kebabs.
The Tap Room in Salt River  is the offshoot/ brain child of the Devil's Peak Brewery Company. The brewery is said to be the pioneers of the 'craft beer revolution' in Cape Town, introducing and educating the South African public about the variety and quality of locally-produced and imported brews.
A visit to The Tap Room allows you to taste the latest creations of The Devils Peak Brewery Company and offers you every speciality craft beer imaginable.
This is certainly a beer-lover and sport-watching haven, and what could make it all the more enjoyable?  A food and beer pairing, that's what. As the Stormers take on the Sharks, nibble on some gorgonzola cheese while relishing a Blockhouse IPA.
While the Brazenhead Restaurant in Blouberg does get rowdy from time-to-time, it is the place to visit if you're looking for a semi- quiet spot to enjoy a beer and watch some sport.
While craft beer is  not their speciality, pub-goers looking for a few cold ones can enjoy a Guinesss or a Kilkenny at this Irish-style pub and restaurant. Alternatively, if beer is not your drink of choice,  a Tullamore Dew is recommended to our whisky drinkers.
If bar snacks during the game don't tickle your fancy, why not try out a traditional Guinness and Beef pie.
From an Irish to a traditional English pub, the Woodcutters Arms in Hout Bay is yet another pub in which South Africans and homesick men from abroad can enjoy a sporting event in good company.
Order a round of craft beers and watch some rugga at one of the four big screens at the Woodcutter Arms.
If you're there on a Sunday, take advantage of their famous roasts. What better combination can there be than a hearty meal, some beers and an afternoon of sports watching? Individuals looking for something to nibble on  can enjoy the restaurant's signature bar snack, the 'Jalapeno Cheddar Cigar'. As the name might suggest, this dish is spicy!
Pirates Steakhouse and Pub in Plumstead is like your typical bar, it's the perfect place to watch some sport, enjoy beers with friends and indulge on bar snacks and wholesome meals.
Accompany a good ol' Castle draught with a stack of pork belly ribs – meat so tender it falls off the bone.  If you're not looking for a meaty treat, their cheesy pizzas are worth a taste too. Choose between a classic Mexican or if you're in the mood for chilli, a ' Spicy Chicken'.
The pub comes equipped with a large TV screen, so eat, drink and be merry as your favourite team takes the winning title!
While sports fanatics can watch rugby games at the on-site bar, Madeira's in Bergvliet is a family restaurant too. While you cheer on and shout at the television screen, the rest of your troop can enjoy quality Portuguese cuisine.
Their famous trinchados are a must-try as are their eisbeins with sauerkraut.
Pub-goers who are looking for lighter meals can choose from the pub menu, where prego rolls and rump bites  baskets will fill the spot while you watch your game.
Fisherman's Kommetjie is a favourite watering hole among residents. Set in a seaside, tranquil village, pub-goers can take an easy stroll up from the beach to enjoy a pint and rugby at the pub and eatery.
Here, the television is always turned onto the latest sporting event, sparking debates and encourage convivial conversation with sports people.
Available on tap are Windhoek, Castle and Hansa plus a wide range of local and imported beers – ensuring that you'll be well liquidated.  The eatery is known for their pizzas and seafood, so why not combine the two by ordering a calamari and mussels pizza. Alternatively, go traditional with a plate of steak, egg and chips.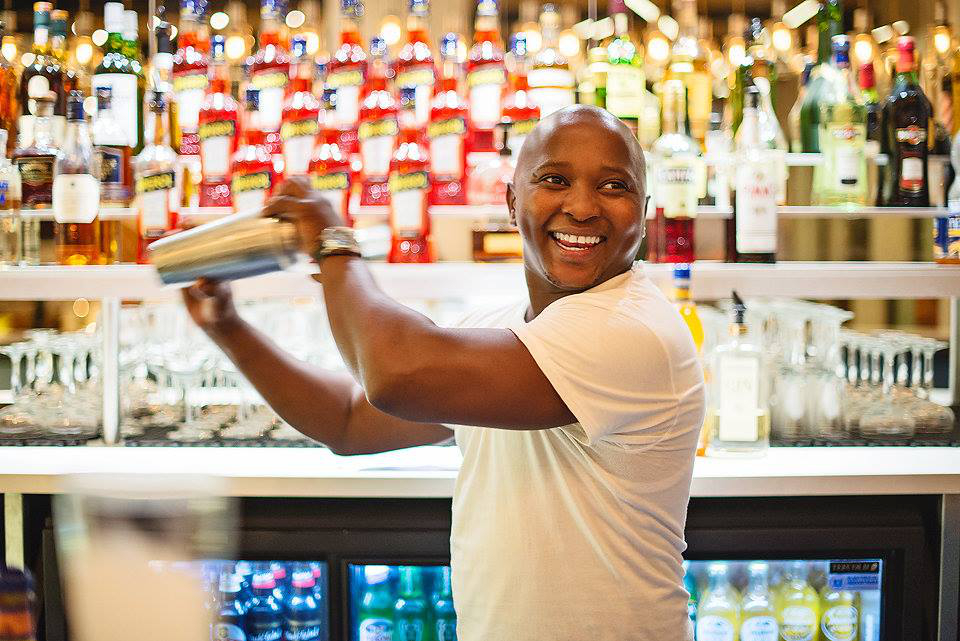 The Local at Constantia's Peddlar's and Co. are simple in their philosophy; they aim to provide a great pub experience with good grub.  Add in some of the Cape's finest craft beers and some old favourites and you've got yourself the perfect setting to watch the rugby.
Despite being set in an upscale restaurant, The Local is without the usual frills and fuss. Here you can be as loud and rowdy as you need to be while munching on your usual pub fare – think crispy potato skins and beer battered hake and chips.