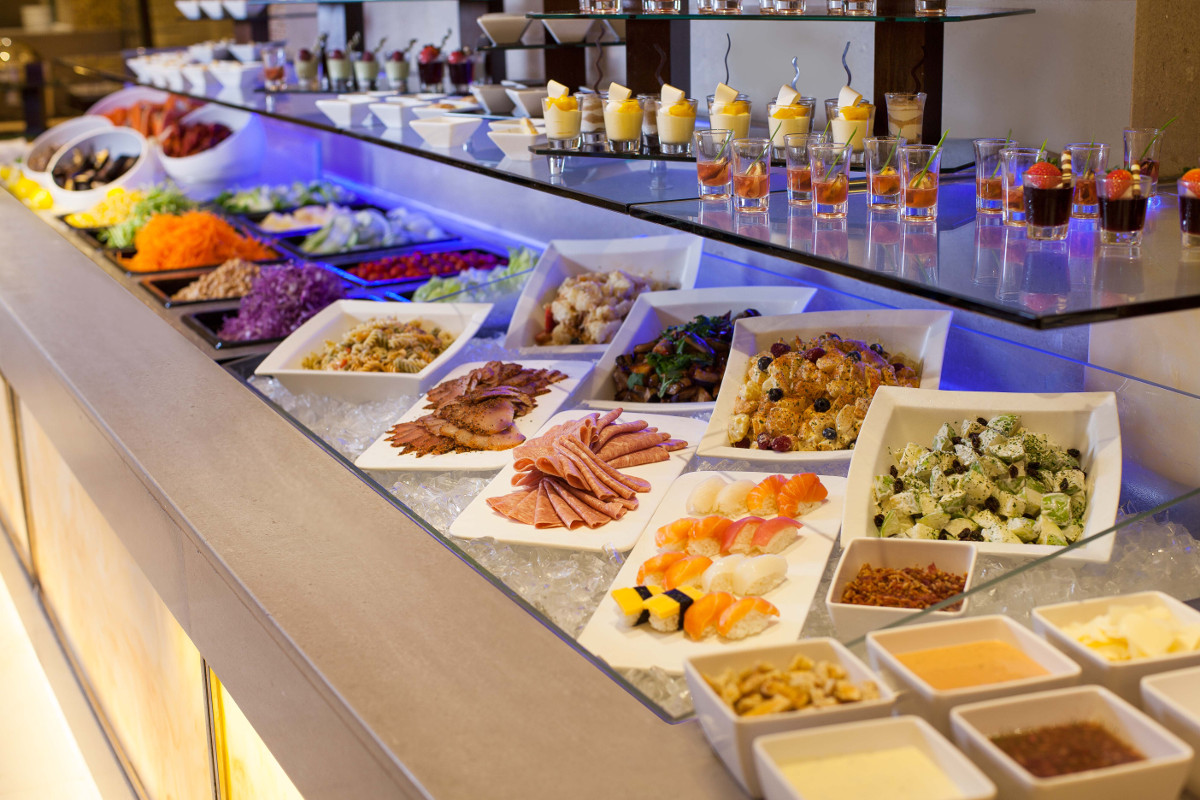 For those who never know what they feel like eating, buffets are the perfect answer. Many people love being able to sample an array of dishes, and once they have found their favourite, enjoy returning again and again to pile their plates. We have done a bit of research and found some of the best buffet restaurants in the Western Cape, Gauteng and Kwazulu Natal. Take a look!
Best Buffet Restaurants in Western Cape
Possibly the most well-known buffet restaurant in the Western Cape, Quarterdeck, is located at Grand West Casino and has a steady stream of hungry patrons every evening. The restaurant is open for dinner from Monday to Saturday and for lunch on Sundays and Public Holidays.
The Quarterdeck charges R250 per adult and R195 per child and consists of cold starters, salads, patés, cold meats and cheese, hot starters, a grill station, a vegetable station, a carvery, an Indian station, a Chinese wok station, pastas, pizzas and a range of hot and cold desserts.
Why you should visit: Their dessert selection is out of this world!
Stonebreakers at Protea Hotel Breakwater Lodge in the Waterfront has undergone a complete redesign and now serves both an A la Carte Menu and a buffet. The restaurant has indoor and outdoor seating for 160 people and offers a full service bar and a barista area. A hot breakfast buffet at Stonebreakers costs R175 whilst the continental breakfast costs R145. The lunch buffet costs R175 and the dinner buffet costs R185.
Why you should visit: The restaurant has magnificent views of Table Mountain, the V&A Waterfront and the Cape Town Harbour.

The Sunday Lunch at Standford Harvest is the talk of the town, offering a hearty selection of braised meats and roasted vegetables. The buffet ranges from R130 – R165 depending on what is on offer for the day. The restaurant is relaxed and arty – beautiful paintings line the walls and tasteful knick-knackery is dotted throughout the eatery.
Why you should visit: Their homemade mead is delicious and this family recipe comes all the way from Scotland.
Admiral's Buffet Restaurant is situated just outside of Mossel Bay and is open from Monday to Sunday for lunch and dinner. The buffet area is situated in the center of the 400-seater restaurant, making it easily accessible for all patrons. The buffet includes stews, bakes, carvery, stir-fry, hot veggies, and dessert and ranges from R95 to R145 depending on what's on offer.
Why you should visit: To taste their Chicken Livers and Creamy Garlic Snails.
Bloemendal Restaurant offers a variety of buffets including a seafood buffet from Monday – Wednesday. The usual buffet is R298.50 for adults, half price for children between 6 and 12 years old and R45 for children under 6. A pensioners breakfast buffet is also available every Tuesday for just R99 and includes 3 courses, a glass of juice and bottomless tea or coffee.
Why you should visit: To watch the sun set over Robin Island and Table Mountain. It's spectacular!
Best Buffet Restaurants in Gauteng
If you are looking for variety and quality, then Billy G is the place to be. The 700-seater restaurant is located in Montecasino and overlooks the casino floor. The buffet menu has 80 dishes on offer and costs R195 for adults, R117 for pensioners and kids between 7 and 14 years old and free for kids under 6.
Why you should visit: Enjoy a wide selection of dishes then try your luck in the casino after dinner.
Rosetta's at Emperors Palace
Rosetta's is located at Emperors Palace in Kempton Park. The buffet costs R160 for lunch and R225 for dinner or Sunday lunch. The selection includes a soup station, hot and cold starters, carvery, hot buffet dishes, a curry station, a stir-fries and grills, fish, pastas, pizzas, and a range of hot and cold desserts. The restaurant also offers a reasonably priced breakfast buffet on Saturdays and Sundays for just R85.
Why you should visit: They have "bottomless soda" with red and white house wines on tap included in the menu price.
For a true African dining experience, visit the Chief's Boma, a 300-seater restaurant at the Indaba Hotel. The buffet boasts 120 African dishes, from Morocco to the Cape. Guests can sample a variety of game meats including Springbok, Impala and Ostrich. The buffet costs R215 per person from Monday to Friday for lunch and dinner, R185 for dinner on Saturdays and R185 for lunch or dinner on Sundays.
Why you should visit: Enjoy sundowners on the deck overlooking the Boma Dam and roasted marshmallows over the Boma Fire after dinner.
Best Buffet Restaurants in Kwazulu Natal
Coral Tree Restaurant is situated at the Zimbali Coastal Estate in Ballito. A covered terrace area offers diners an incredible view of the Indian Ocean.  The Buffet features 4 different cuisines; South African, Indian, Oriental and Italian. A buffet dinner costs R295 per person and consists of Chef's Daily Soup, a Cheese Board, a Sushi Bar, Salads, Carvery, Indian Station, Pastas, Stir-Fries and plenty of Desserts.
Why you should visit: To try their Chocolate Fountain with Brownie Squares, Turkish Delight and Strawberry dippers. Their Ice Cream Deli is also worthy of a mention with flavours like Caramel, Bubblegum, Oreo, Milo, and Mango Sorbet with a variety of toppings.
The Hilton Hotel in Durban is home to the Rainbow Terrace, an elegant yet casual Zulu themed restaurant specialising in International and African buffets. International Buffet Nights are held from Sunday to Thursday, Seafood Fiestas on Fridays and the Curry Cup on Saturdays. Buffets range from R210 to R280.
Why you should visit: They are known for their bunny chows (a hollowed-out half loaf of bread filled with vegetable or meat curry).
For a unique dining experience, visit A2A (Africa to Asia). As the name suggests, the restaurant offers speciality cuisine from Asia, the Middle East and South Africa. The buffet costs R239 per person and includes a wok station, Durban tandoori, rotis, curries, schwarmas, meze, a Zulu and South Africa section, a braai section, salads, soups and bread and a range of desserts and cheese. A soft drink soda fountain is included in the price.
Why you should visit: The restaurant has spectacular views over gardens and the ocean.
Kaya Beach in Bluff is similar to it's sister restaurants in Bredell and Grootfontein. The restaurant floor is covered in beach sand and old surfboards, boats and colourful shells are scattered here and there. There is a kiddies menu and a jungle gym for the little ones and plenty of beach-themed drinks for the 'big ones'!
The lunch buffet is served on Saturdays and Sundays from 11:00 to 15:00 and the dinner buffet is served on Fridays and Saturdays from 17:00 to 23:00.
Why you should visit: To try their decadent shakes and exotic cocktails. They have non-alcoholic cocktails too for those who prefer.
*Prices correct at time of publication