For all you meat lovers this article is for you! We have tracked down, what we believe to be, the best Steakhouses located in and around Cape Town.  The restaurants that we will be mentioning are local favourites and have earned their meaty reputations respectfully. Enjoy!
With many locations around Cape Town, The Cattle Baron is certainly a local favourite. With their large variety of quality Steaks on offer, and their scrumptious sides, such as their famous perfectly spiced Butternut and tasty spinach, it is certainly worth a try. With Cattle Baron's 30 years of experience in offering perfected cuts of wet-aged, grain-fed steaks as the focus of the dining offering, you will certainly be back for more.
2. Belthazar Restaurant and Wine Bar – V&A Waterfront
The largest "wine by the glass" wine bar in the world is situated in the bustling V&A Waterfront, Belthazar Restaurant and Wine Bar has exceptional views of Table Bay.  The Restaurant only uses the finest ingredients. Specialising in the finest seafood and meats, Belthazar boasts a large variety of Grain-fed, Tasmanian and Game steaks. Visiting this restaurant is definitely a must when heading down to Cape Town, especially for wine lovers, as Belthazar serves up to 250 of the finest wines by the glass.
3. The Hussar Grill – Rondebosch
One of Cape Town's finest steakhouses was established in 1964 in Rondebosch, The Hussar Grill is famous for their AAA grade grain fed beef and no corkage rule. This has thus firmly placed this restaurant on the list of Capetonians favourite things. Having garnered a loyal following over the years, The Hussar Grill is known for their award-winning speciality steaks and wine selection, superb service and warm ambience. With their many branches located in Cape Town there is definitely an opportunity to try out this old favourite.
4. Buzbey Grill – Sea Point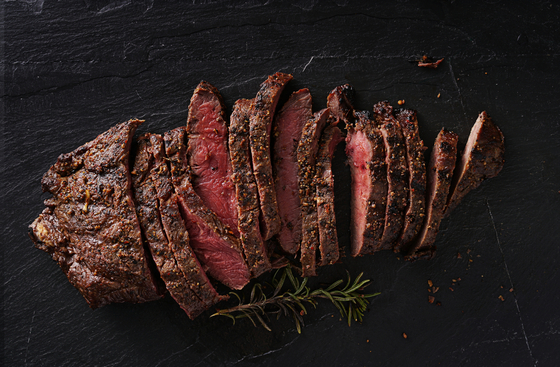 Located at the end of Glengariff Road in Sea Point, Buzbey Grill has been in operation for over 20 years. You cannot miss this spot with their Neon signage, a landmark when entering Sea point from Cape Town. Their legendary pepper steak fillet rubbed in cracked pepper with a brandy and creamed sauce and is a must for the first timer. The restaurant has a firm following with 80% of the patrons being regulars, so make sure to book!
5. City Grill – V&A Waterfront
The City Grill is a steak house with a rich diverse menu displaying a traditional South African flavour. This well-known eatery is situated in the popular V&A Waterfront. Their exotic menu features springbok, kudu, crocodile, wild boar or ostrich dishes, with their specialty being their steaks. With their superb service, lazy-aged steaks, cut by their in-house butcher, and exquisite décor, visiting the City Grill is definitely a splendid treat.
And that's it! Our round up of the best steakhouses in Cape Town, we hope this helps you in narrowing down your favourite Steakhouse in Cape Town.