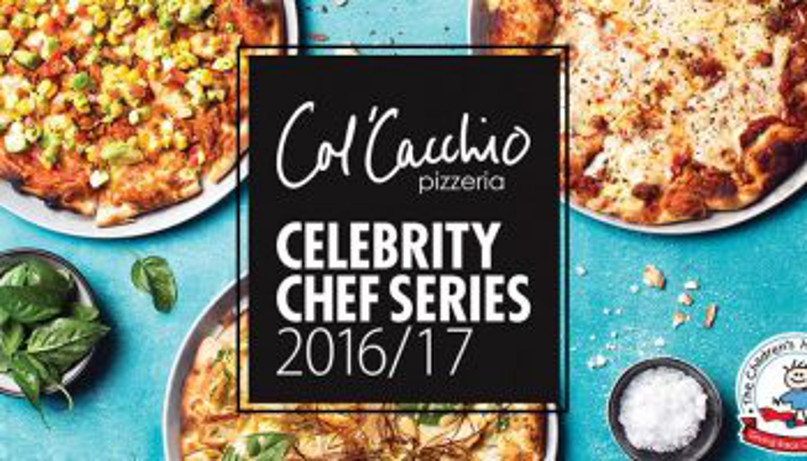 On the 8 November 2016 Col'Cacchio Pizzeria launched their 2016/2017 Celebrity Chef Series, proudly sponsored by Heineken, Place in the Sun Wines, Coca-Cola, Rialto Foods and Parmalat. This well-known series began in 2009 seeing Col'Cacchio team up with Celebrity Chefs to create amazing limited edition dishes.
For this edition, Col'Cacchio has collaborated with respected chefs, Neil Anthony, Claire Allen and Zola Nene to create remarkable signature pizzas to excite the palate this summer. Between November 2016 and April 2017 fans will be able to indulge in three amazing pizza variations. They will be available throughout South Africa at a mere R105 per pizza.
The first option, by famed Expresso Chef and Author of 'Simply Delicious' Zola Nene, is the Don Salsa. A Mexican inspired tomato base, pulled BBQ chicken pizza drenched in mozzarella, smoked mozzarella with corn and a fresh avocado salsa topped with TABASCO® Chipotle Sauce.
From Neil Anthony, star of TV series "Private Chef", we have The Private Chef, an adventurous combination of a crème fraiche & spinach base, mozzarella with a marinated Asian chicken pizza topped with a truffle infused Asian mayonnaise, crispy leeks, basil and Italian parmesan shavings.
And last but not least we have The Phat Cat, an indulgent play on authentic lasagne by Claire Allen, Food Blogger and Entertainer, who presents a beef bolognaise pizza with a creamy béchamel sauce topped with mozzarella.
The Celebrity Chef Series is a large contributor to charitable causes. With every celebrity pizza sold, Col'Cacchio donates R5 to a charity per series. Since the first series in 2009, Col'Cacchio has raised a whopping R 1.8 million. This year's 2016/2017 series charity is Children's Hospital Trust, fundraiser for the Red Cross War Memorial Children's Hospital.
Col'Cacchio has launched their Summer Menu (infused with TABASCO® Sauces) this November. This new menu is truly an inspiring mix and match of top class ingredients and innovative variants that keeps this Italian inspired restaurant on top of its game.