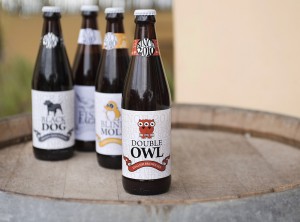 Wild Clover Brewery, a young establishment on the Wild Clover Farm outside Stellenbosch, is hosting their first Hops Harvest Festival in celebration of the successful hops harvest and craft beer in general. Here, owner-brewer, Ampie Kruger sheds some light on the art of craft beer brewing and what makes craft beer so special anyway.
Sleeping-OUT (S.O.): What is your 'beer story'? How did you discover craft beer and what made you fall in love with it?
Ampie Kruger(A.K.): I first really fell in love with beer on a trip to England. After I returned to South Africa I stopped drinking beer though because the specialist brews were too expensive and there is enough wine in the Western Cape to keep anyone happy.
Then I ran into an old friend, Christo, who told me he brews his own beer. One day at a braai he gave me a taste of his home-brew – an English Brown Ale and all the memories of those typical English beer aromas and tastes came back to me. Christo taught me how to brew English Brown Ale and I was completely sold.
A few years down the line another friend recognised my passion for brewing and suggested we take the brewing to the next [commercial] level. I said yes, and that was the beginning of my professional brewing life.
S.O: What makes craft beer different from regular beer?
A.K:Well, at Wild Clover Brewery our beer is special because it's 100% artisanal – we use traditional methods and quality ingredients. Everything, from crushing malt, to brewing the beer and kegging or bottling the end result is done by hand, with lots of love and passion. This approach supports our 'back-to-roots' philosophy on life and ensures our beer is high quality.
S.O: Can you tell us briefly about the brewing process?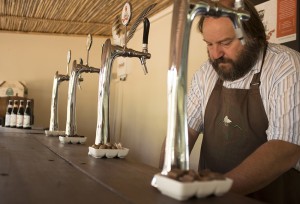 A.K:The brewing ritual starts on a Friday evening. I prepare the grain bill. This is the ingredients I will use to extract sugars and flavours to add to the beer. The flavours are extracted by steeping the ingredients in hot water. Then I sterilise the brewing equipment and turn the hot liquor tank on, fill it with water and leave for the night.
At 5am on Saturday it only takes a few minutes to get the tank to the correct temperature which is important because of the enzymes needed to turn the starches into sugars (called mashing). Next comes the actual brewing process where yeast is added to convert the sugars into alcohol. Finally it is bottled or put into a keg for storage.
S.O: Which is your favourite Wild Clover craft beer andA.K:I will always have a soft spot for the Double Owl as that was where it all started and I believe it is a very well balanced beer.
S.O: On the 10th of May it's the Hops Harvest Festival at Wild Clover Farm. For newbies to the craft beer scene, what can we expect from a 'beer tasting'? Are there any 'beer terms' we should know about to help us along?
A.K: There are too many beer terms! Some are carbonation (fizziness) and turbidity (cloudiness) which determine the freshness of a beer. Mouthfeel is the 'body' of the beer – does it feel 'heavy' or 'light' in the mouth? 'Bouquet' is the smell attributed to the hops (flowers) and the 'aroma' is the smell from the malt and grains. The 'finish' is the aftertaste.
S.O: When it comes to beer, the word 'hops' is thrown around a lot. What exactly are hops?
A.K: We use 80 kg of barley per brew and only 0.6 kg of hops per brew, but it is the magic ingredient. It's a little flower that only grows in the George area of South Africa. It is not indigenous but with the help of scientists we've figured out how to cultivate it there. These scientists are some of the people we honour through the Hops Harvest Festival.
The Hops Harvest Festival at Wild Clover Farm is taking place on the 10-12 May 2013. It promises to be a family friendly weekend of beer-tasting, live music and delicious food in a picturesque setting outside Stellenbosch.
This is your chance to learn more about beer, sample offerings from some of South Africa's best craft breweries and indulge in a range of foods from boerewors rolls to a wild-boar spit-braai. The music line-up is stellar too with Mr Cat and the Jackal performing on Friday night,Tanglewood playing during lunch on Saturday and Valiant Swart playing Saturday night. Mothers' Day will see the likes of Peter Winess on stage. If you can't make the festival, the brewery is open 7 days a week and the Wild Clover eatery serves up some mean country fare.
Dining-OUT and Wild Clover Farm are giving away 5 double tickets to the Hops Harvest Festival this weekend. To win tickets for you and a friend, tell us in the comments below why you deserve to go, and don't forget to LIKE our Facebook page and follow us on twitter @DiningOUT_SA. We'll alert the winners on Thursday afternoon.
For more information about the festival e-mail info@wildclover.co.za or visit their website. Competition queries to Dining-OUT.