It's true, Cape Tonians love craft beer. Pints that are brewed using natural ingredients, without any additives or preservatives. While pricier than your mass-produced beers, brew-drinkers have come to enjoy the quality and distinctive taste these brands provide them.
To aid you in your search for the best craft beers in the Western Cape, we have compiled a list of pubs and restaurants that are best known for their extensive selection of homebrews.
While many might see themselves sipping Caribbean-styled cocktails drunk out of coconuts on a night out at Banana Jam Café in Kenilworth, it is also a great place for a refreshingly cold beer.
Banana Jam Café has an incredibly large collection of craft beer, with over 30 international and local drafts; and 80 bottles from which to choose from.
Take a seat outside and bring in the weekend with a few pints of your favourite brew.

Who would have thought that starting a brewery at Saggy Stone was the brainchild of an experienced, patisserie baker? Yet Adriaan Baker and his brother turned their pipe-dream of brewing their own beer into a reality.
Through the use of Adriaan's talents in the kitchen, the two use an all-grain brewing method to produce the best craft beers in the Overberg Region. Furthermore, what sets them apart from other home brewers is their use of a unique incredible, soft palpable spring water from the Langeberg Mountain Range.
Not only is the beer reserved for drink, but many of the pub meals are cooked using their beer.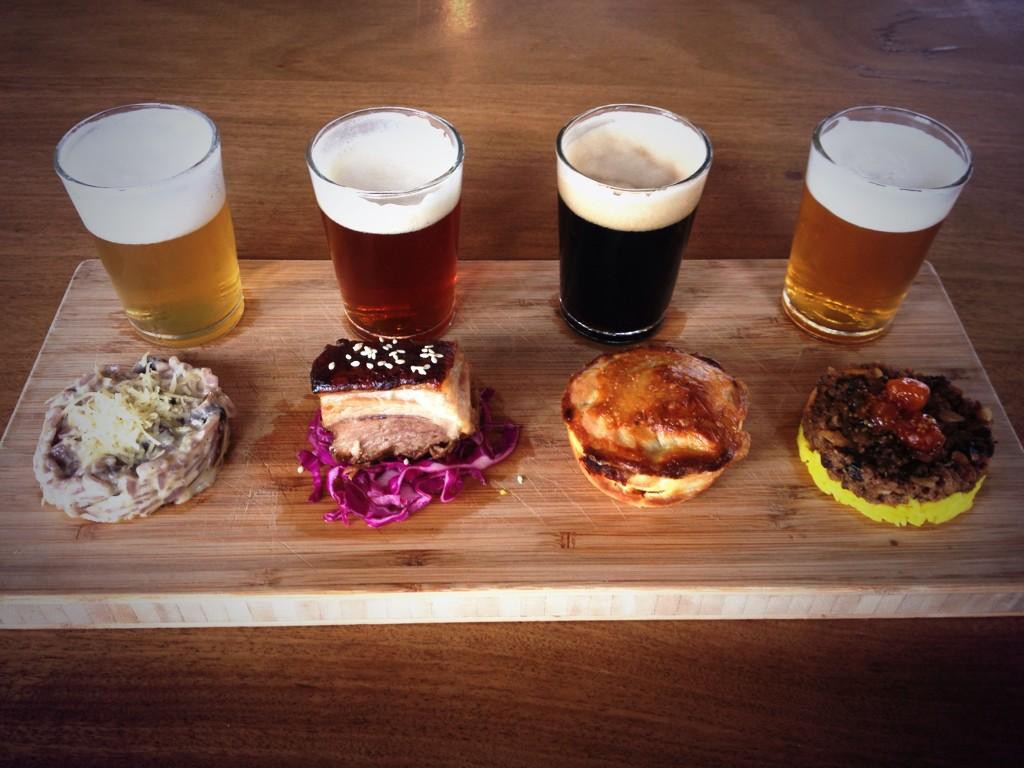 Having been incepted at the start of the craft beer revolution in South Africa, Devils Peak Brewery have been educating the local consumers about the variety and quality that exists across the beer landscape.
Having started out small, the demand for Devils Peak Brewery's ales has grown exponentially over the years, so much so that The Tap Room in Salt River was opened to cater to the needs of the beer-loving public.
The Tap Room is a place to enjoy the latest innovative creations of Devil's Peak Brewery, either savoured by itself or accompanied by one of their famous food boards.

Birkenhead Brewery

Birkenhead Brewery in Stanford is the first conjoined wine and craft beer brewery in the southern hemisphere.
While small, the microbrewery is growing, and now boasts four premium brands of craft beer, including Premium Lager, Pride (Old English Bitter), Honey Blonde Ale and Birkenhead Pilsner.
These exceptional beers can be paired with a hearty dish from the adjoining restaurant, the Birkenhead Gallery.

Engruna Restaurant is known by Sea Point locals for its age-old pairing of greasy, traditional burgers and cheesy pizza with a pint.
Their comprehensive craft beer menu will leave you stumped over what brew you should choose, we suggest the First Light Golden Ale, a light ale that enhances the taste of any Engruna dish.

The laid back, back-of-the-garage-style eatery in Gardens is known for their larger-than-life burgers, a meal which can sate any large appetite; or divided up among friends.
The mouth-watering burger should be accompanied by a beer on tap, or if you're looking to try something homebrewed, 'The Dog's Bollocks' craft beer is worth a taste!

You know you're in good hands when you spot the Hello Sailor's chalkboard, which have the words emboldened in white, " we heart craft beer".
As you might have guessed, Hello Sailor is a nautical themed restaurant found in Observatory. While you might be envisioning a dingy bar full of tattooed, hardened sailors, the reality is quite different. The restaurant is full of activity, with friendly staff answering to your every beck and call, and of course, the craft beer is something to rave about.
Beer drinkers can choose from an ever-expanding selection of brews. If you're looking for something classic, opt for a Jack Black Lager. Alternatively, the Dragon Ginger Beer offers a different sort of taste for the adventurous.