Perched on the outskirts of Bot River in the Overberg, Gabriëlskloof will once again don its festive bells and whistles for the Favourite Things Market on 12 & 13 December 2014. This special Xmas festival, now it's in fifth year, celebrates all things local and lekker and allows visitors to escape the dreaded pre-xmas crowded malls and instead enjoy a carefree day  out, while still getting all their Xmas shopping done!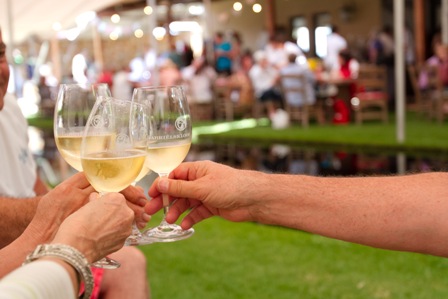 Visitors can look forward to 'vintage' finds, gorgeous kiddies clothing, décor treasures, trendy accessories, beautiful flowers and indigenous fynbos wreathes, ceramic, pamper products,  artisanal cheeses, pesto's and chocolates, craft beers, and, naturally Gabriëlskloof wines.
"Whether it lands up in or under the tree, or on your table during your special Christmas and New Year's feasts, there is something for each and every taste at our market. If you like handmade, homemade, delicious, fresh and beautiful things, then you will love what we have in store for you this year," says Nicolene Finlayson, the mastermind behind the Favourite Things Market
To re-fuel in the most delicious way in between shopping, savour the gourmet burgers, sushi, sumptuous mushrooms kebabs, fresh oysters, big-pan paella and authentic gazpacho on offer. There will also be live music to keep everyone entertained and add to the lively atmosphere. Kids will be kept buy in the "chapel", where pews are replaced with a jumping castle and they can run and play under the watchful eyes of professional child-minders.
With loads of stalls to entice you with authentic products, interesting exhibitors and locals to mingle with, friends and family are invited to kick off the shoes and find a 'kuier' spot on the lawn, far away from the maddening end of year rush.
The day's activities kick off on Friday, 12 December from 5pm till 9pm and are all repeated on the Saturday, 13 December, from 11am until 9pm.