"Original, energetic local talent showcased"
A wonderful way to start the new year a bit late…at Die Blou Hond.
While the guests are enjoying their delicious dinner, I notice the flat screen TV above the stage, rotating pictures of past shows as well as the programme for upcoming shows.
As always, brand ambassador, Philip Moolman welcomes the guests & VIP's & shares some news & info about Casa Toscana & the amenities available.
Philip is baie skerp met sy deernisvolle nabootsings van ander sangers, soos Dozi, Anton Goosen, Karen Zoid, Johan Stemmet & Gé Korsten. Die gehoor geniet dit terdeë & sing luidkeels saam wanneer daar vir die 'verjaarsdagmaatjies' gesing word.
Ruiter Piet (alias Chris de Jager) & sy kitaar Edwin, is vanaand se voorprogramkunstenaar. Chris was lid van die "Tuindwergies" & sing dan ook 1 van hul treffers "Kopskudkinders". Met 'n fyn humorsin deel hy herinneringe uit sy grootwordjare & van sy oorspronklike Afrikaanse liedjies soos "Die Horison se Rand" & "Swaai".
After the interval & the lucky prize draws, it's time for the multi-talented "Georgetown". Tonight the band consists of 5 members, which includes a saxophone player.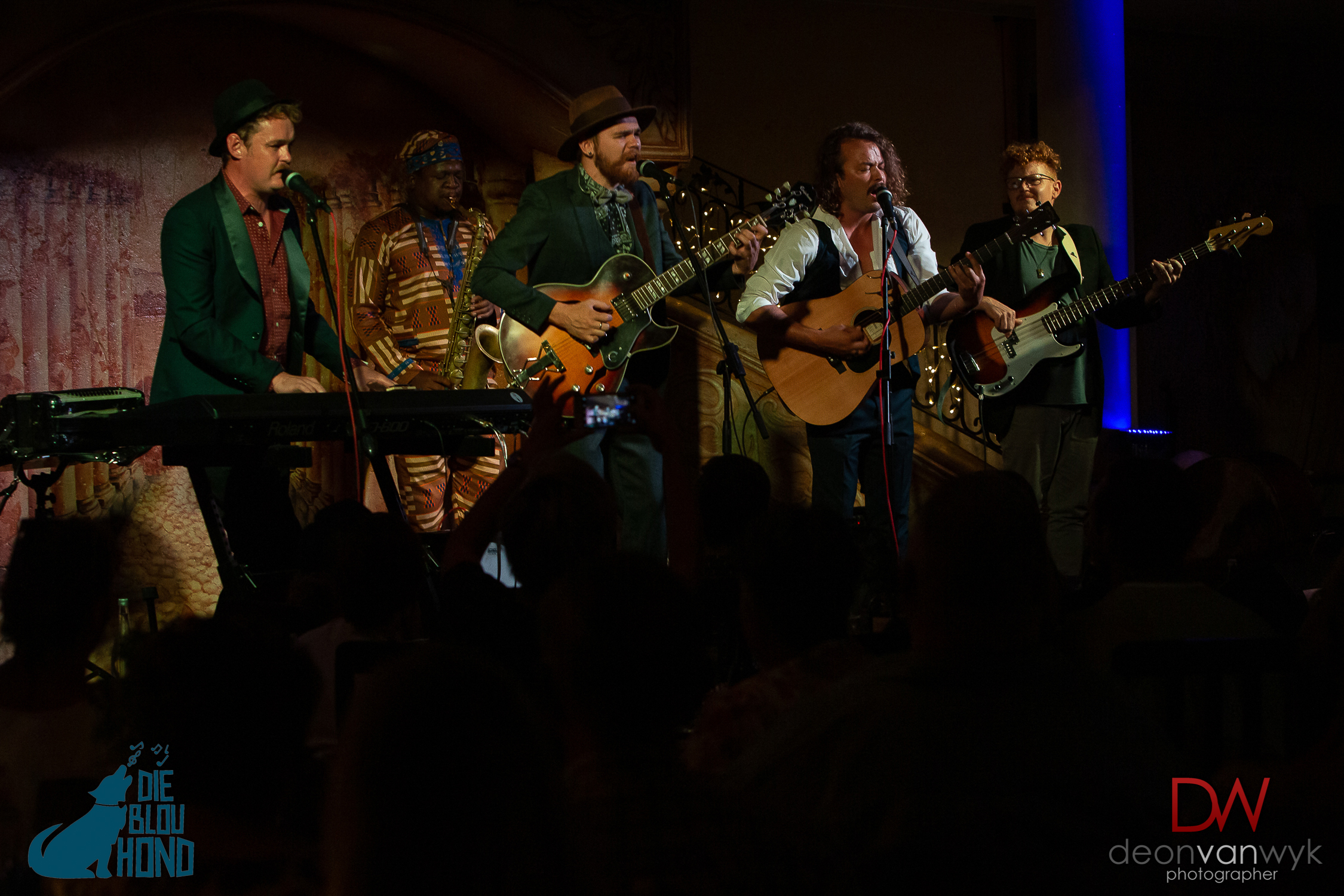 They introduce themselves as a 'garage band all the way from Rooihuiskraal' performing mainly 'hillbilly' music, available to perform at 'funerals, liquidations & divorces'. Their show is energetic, well-rehearsed & highly entertaining.
The group consist of Renaldo (Ronnie) van Dyk (acoustic guitar, electric guitar, percussion, suitcase, cajon & vocals), Michael de Villiers (accordion, piano, rhodes, harmonica & vocals), Tiaan Erasmus (acoustic guitar, mandolin, electric guitar & vocals), Rynier Prins (upright bass) & Tebogo Mokoena.
Their performance includes (mostly originally written by the band members) "Slow Down Boy", "Moon Baby", "Loaded", "Wrede Tralies" (very entertaining rendition of an old "Briels" hit), "The One", "Mary-Anne", "Dog Show", "Lazy Bones" & "The Sham" (one of their latest creations).
Two highlights for me: definitely their version of the ELO hit "Livin' Thing" as well as the very old Chris Blignaut hit "Groen Blare".
Hulle sluit hul program af met "Pink Cadillac" & "Go Johnny Go" waarby hulle Koos Kombuis se "Johnny is nie dood nie" inkorporeer.
Die saksofoonspeler is, na my opinie 'n baie goeie toevoeging tot die groep. Dit gee hulle beslis 'n voorsprong op die plaaslike, oorspronklike "live performance" musiek toneel.