Halloween is just around the corner!
If you're throwing a Halloween party, here are some ideas for fun, easy to make halloween themed snacks to try out.
A Frankenstein's monster ice-cream! All you need is a green cone (or dye a regular one with green food dye) and some black icing.
Stick some white marshmallows onto straws and use sweeties for eyes. You can draw faces on them with edible koki or icing sugar.
Some amazingly decorated halloween cupcakes for the more creative out there!
Halloween themed candy apples. Yum!
Another easy one! Get some oreos, use smarties for eyes, and cut up some red licorice  for the legs. Ta Da!
Not all Halloween party foods need be unhealthy, how about a halloween stuffed pepper?
Some creatively arranged carrots and olives
Or you could make spooky creations with some bananas and naartjies.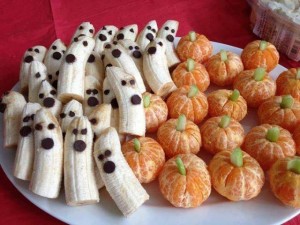 Happy Halloween!