Where: corner of Queen and Victoria Streets, Durban, South Africa
When: 8 am- 6pm, Mon- Sat and 10am – 4pm, Sun.
Stepping into the distinct pink and purple building, one is transported to another realm. It feels much like stepping through the cupboard door to Narnia. The inside is largely illuminated by cheap fluorescent light bulbs, casting a yellowy haze over the wares. Oftentimes, a large grin greets you from behind a row of spices, and always, the din of the crowd and bartering in the vicinity bring this place to life.
The Victoria Street Market, unlike the surge of trendy foodie markets which have cropped
up in South Africa, is the real deal. A no-nonsense place frequented by all sorts and steeped in history. The current market is in its 3rd incarnation, after starting out as an open-air market in the 1870's, run and frequented by the Indian population, it established itself officially and moved into a building down the road, which later burnt down. Today it is housed in an oriental-inspired building, complete with 11 domes, and is representative of the strong Indian identity associated with Durban.
Best known for its array of imported Indian spices and beans, the colours and smells are a delight to those who enter. While The Vic, as it's known, is not a market where you will be passing a lazy Saturday morning sipping vanilla-infused coffee between mouthfuls of freshly baked ciabatta, that doesn't mean it is not enjoyable!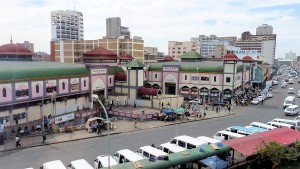 As an amateur chef, especially one who loves to 'feel the burn', a wonder between the rows of spices will surely inspire you. Given that the vendors tend to be Indians, many descendants of the slaves brought over to work on the sugar plantations in Kwazulu- Natal, they might even be willing to give you a few cooking tips.
The Vic market is somewhat of an institution in Durban and a popular tourist attraction as a result. This makes for a mixed crowd, from Indian house-wives and restaurant owners, to Zulu mamas and tourists from afar. The thing is, aside from spice and wafting incense, there is also a fish market, a section of cheap Chinese tat and numerous kiosks selling African curios like woven baskets and beaded dolls. Thus, even if eating in a nice Durban restaurant is more your thing than cooking up something spicy, The Vic is still well worth a visit. Not your average market and certainly not your average experience!