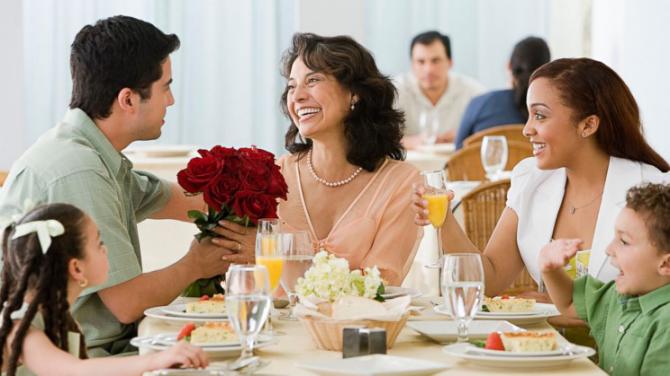 It is almost that time of year where we celebrate the first ladies of our lives, our lovely moms. If you're at a loss over how to show your love and appreciation for her, celebrate her special day with a lavish meal in a picturesque setting.
To help you to wine and dine your moms, we have compiled a list of Cape Town eateries who are going all out to commemorate Mother's Day on 8 May 2016.



Situated at Nederburg's historic manor house, the team at Red Table are preparing an indulgent three-course meal especially for Mother's Day.
Red Table's executive chef, Edmare Ruzoza will be cooking up a storm for the occasion, preparing innovative meals which burst with flavour and deliver on presentation – essentially 'art on a plate'.
For starters, choose between a biltong, gorgonzola, and fig tartlet; or deep-fried camembert served with strawberries and balsamic cream. A herb-crusted rack of lamb, seared Norwegian salmon, or porcino wild mushroom open lasagne serves as mains. For dessert, there is a wide selection of decadent desserts, including 'Black Forest Gateau' and berry compote with white chocolate shavings.
Complement your food with a glass or bottle of Nederburg varietals, including the award-winning 'The Winemasters'.

Lanzerac is hosting a special three-course lunch to honour our moms.
Upon arrival, all mothers will receive a welcome drink and a homemade gift from the chef.
While the menu has not been released to the public, watch this space for more information.
While tucking into platefuls of delicious food, sip on crisp wine and marvel at the views of vineyards and mountains.
If you wish to treat your mom further, book her an overnight stay at the upscale Lanzerac Hotel. A luxury suite will cost you R1630 and includes a gourmet continental breakfast.

Take your mom out on a countryside adventure to the Cape Wineland's estate, Avontuur. Considered the 'home of fine wines and stallions', mothers, sons and daughters can spend the day sipping on grapes of the wine, or galloping on horseback along the perimeter of the wine estates.
Enjoy a glass of the estate's award-winning rose MCC to kick off the celebration, followed by a special or lunch for the whole family.
Following a hearty meal and wine tasting, if you're up for an adventure, explore the property by booking a horse riding lesson.

A 'Fit-For a Queen' Celebratory Lunch at Eight Restaurant – Stellenbosch
The harvest-to-table menu at Eight offers a wide selection of tantalising starters, hearty mains and decadent desserts.
Treat your mom to an indulgent meal and show her just how much she means to you through food! Up for the taking are meaty rump steaks, smoked snoek, salads for the tables, and mouth-watering pudding.

Buitenverwachting Restaurant is considered one of the finest Cape Town restaurants. If you're looking to go all out this Mother's Day, treat your mom to an opulent high tea at this eatery.
The Courtyard, the restaurant's garden area, is the ideal setting to indulge on platters of decadent dessert – think 'Chocolate Variation' (a must for serious chocoholics) to 'Rhubarb Soufflé In A Glass'.

If you're looking for something different to share with your mom, The Dining Room offers a unique dining experiences to their guests. The Dining Room offers an array of old-fashion dishes which will no doubt leave those special ladies in our lives reminiscing over their formative years.
Additionally, meals will be served in a private dining room, giving the restaurant a warm, homey setting.