The Islands Restaurant, located between the iconic Lion's Head and Table Mountain in the prestigious President Hotel, have launched their much anticipated Winter Menu. Tuck in to hearty, delicious meals prepared with goodness and love, and take in the amazing views of the Atlantic Ocean while you enjoy your meal.
The highlights of the Winter Menu, created by the hotel's Executive Chef Paterson, are a true definition of comfort food and are perfectly paired with some of the best wines, from over 14 different wine farms, that South Africa has to offer. There are a variety of delectable dishes surfacing on their Winter Menu that will definitely get you out of bed to try it, such as fantastic starters which include honey and cinnamon roasted butternut soup topped with gnocchi and sage cream. For the hungry, there are tasty mains featuring braised shoulder of lamb with soft polenta, red wine jus and homemade tomato chutney paired with the Stellenbosch Blaauwklippen Zinfandel, or you can try the seafood ragout with Neapolitan sauce, olives, and chorizo paired with the Hemel-en Aarde Newton Johnson Felicité Pinot Noir. For those looking for something sweet, there is a selection of delectable desserts to enjoy that will take away those winter blues.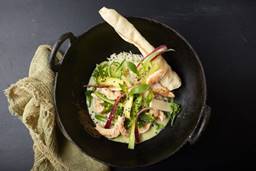 To celebrate the launch of this new
Winter Menu
, Chef Paterson would like to share his recipe for his favourite menu item, the delicious
Thai Fish Croquettes with Green Curry Velouté and Asian Greens
with all of us:
Fish Croquettes recipe
400gr Fresh Kingklip – diced
100g Smoked Salmon – slivers
200gr Mashed Potato – cold
30g Spring Onion – sliced
5g Fresh Garlic – finely chopped
5g Fresh Dill – finely chopped
10g Fresh Ginger-finely chopped
20g Fresh Coriander – chopped
1 Egg
Salt and Pepper
Seasoned flour, beaten egg and panko breadcrumbs.
Method
In a large mixing bowl, add your Kingklip, smoked salmon, fresh herbs, ginger, garlic & spring onions and mix well. Add your mashed potato & beaten egg to bind the mixture to the correct consistency. Season the dish to taste with salt and pepper. Form your mixture into 30g-50g balls/rounds ready for crumbing. Set mixture in the fridge/freezer for an hour to set before crumbing. Dust fishcakes in seasoned flour, then beaten egg and finally panko breadcrumbs. Cook in deep fryer till golden brown and cooked all the way through.
Thai Green Curry Sauce recipe
1 Onion – Finely sliced
2 Garlic cloves – chopped
2cm Ginger – chopped
1 Lemongrass stalk
Knob of Green Curry Paste
50ml White wine
2 cans Coconut milk
20g Fresh Coriander
5g Fresh Basil
3g Fresh Mint leaves
1 Lime
Method
In a very hot pot, brown onions. Once onions are browned, add garlic, ginger & lemongrass & continue to brown. Add curry paste, getting good colour on the bottom of your pot. Deglaze with white wine, reduce wine until syrupy. Add coconut milk & simmer away until reduced by 1/3. Take sauce off the heat & cool down. Once cool, blend the sauce along with the fresh herbs (jug blender). Strain sauce in the conical strainer. Season the dish to taste with salt, pepper and lime juice. To assemble dish garnish with baby Asian greens, black and white sesame seeds and pickled ginger.
For more information and to make a reservation or view their menu CLICK HERE, and book your winter indulgence at The Islands Restaurant through Dining-OUT.