If you've got a better half, it's always a good idea to spoil them from time-to-time with a fancy dinner accompanied by a bottle of wine. Whether you're looking to put some spice back into your relationship or for a way of getting out of the dog-box, we've found some top-notch restaurants for that romantic night out.

Satori in Linden has recently won several awards for being the 'best neighbourhood restaurant'. While its fine reputation has residents turning heads, it is neither pretentious nor overly priced. Young couples will enjoy wholesome foods for a reasonable buck while dining in an intimate setting. If that's not enough, you can entertain yourselves with a round of board games – giving a homey feel to the place.
As Satori is an authentic 'ristorante', their gourmet pizzas come highly recommended. Cooked in a wood-burning oven, diners can munch on an array of pizzas catered to both the vegetarian and the meat lover. The large 'Paradiso', which can be shared between two people, is a veggie-friendly pizza topped with pear, brie and rocket.
The mantra of Plaka in Cresta is to 'Eat. Love. Live', words which resonate in the quality of meals served to the patrons – made with love, care and attention to detail.
Couples who are looking for a trendy date night will enjoy Plaka for its traditional Greek fare with a contemporary spin-off. One thing you can bet on with Greek tradition is the sharing of food between loved ones. At Plaka, this philosophy is no different. Indulge in a couple of meat and vegetarian platters with your significant other. Coming recommended to diners is the 'Soutzoukakia Smyrna', a meze platter served with spicy mince balls and cooked in a tomato-based sauce.
While hearty Greek food is what Plaka is known for, couples will also enjoy the intimate ambiance and sophisticated decor about the place. With walls painted a cool white and splashes of blue thrown into the mix, diners will feel as though they've been teleported to a festive Greek Isle.
If you're aiming to impress on a first date or looking to pull out the stops on a special night out, Pigalle will introduce you to the 'art of dining'.
As soon as you make your entry, you'll be surrounded by sophisticated elegance. This is not the place to wear takkies and shorts – don your best jacket and a pair of smart shoes for the occasion.
Diners have the option to sit outside on the piazza – a spot that overlooks the happenings down below, which will leave you entranced by the hubbub of activity. Inside, bold artworks hang on the walls, while a sushi bar can be found at the epicentre of the room. Watch as talented chefs cook up culinary masterpieces.
While sushi and Asian-inspired food are what Pigalle are renowned for, their specialty pork and hearty meat cuisine will ensure that a second date is for definite. Try out the 500-grams worth of 'Fillet on the Bone', a dish full of flavour and succulence.
If you're looking for a low-key dining experience but are unprepared to have sloppy takeaways in front of the television, make your way to Tei Avon in central Johannesburg. At Tei Avon, which means 'good and happy eating' in ancient Hebrew, you'll be warmly greeted at the door and treated with the same level of friendliness throughout your dining experience.
As the name suggests, Tei Avon specialises in schwarmas, but these aren't your everyday run-of-the-mill takeaway grub – expect a traditional meal combined with international flavours. The 'Moroccan Schwarma' comes highly recommended with fillings of lamb, tabouleh, red bell peppers and caramelised onions – smothered in spicy paprika yoghurt. If you're looking for a fusion-styled dish, try out the 'Austrian Schwarma' that comes with schnitzel, sauerkraut, green bean salad, brie and whole grain mustard.
Adding to the warm ambiance is an open-air kitchen area – giving guests the experience of watching their food being made while getting friendly with the chefs who prepare the food.
Couples in the North-West of Johannesburg have very few options when it comes to fine dining at classy restaurants.
Eat is changing the face of this dilemma, and is fast becoming the 'go to' restaurant for an intimate night out with your beloved.
If tranquility and privacy are what you're looking for, book a table outside in the coveted courtyard. At night, the courtyard trees are enmeshed with fairy lights creating an enchanting ambiance. For those chilly nights, the interior of the restaurant is as equally inviting with its smart leather couches and overall opulence. The wall hanging of enlarged dishes of food is a taste of the culinary masterpieces to come.
If you're looking for the ultimate meaty treat, then a dining experience at Eat is just for you and your partner. Try out the 300-grams worth of 'Five Peppercorn Rubbed Prime New York Strip'. Alternatively, the 'Gourmet Beef Burger' is a monster meal that comes with a sizeable beef patty slathered in garlic aioli and barbeque sauce, topped with mild cheddar cheese, bacon and avocado. To clog up the arteries a little more, the burger comes with a massive serving a fries.
If you want to get to know your date a little better or reignite the flames of a relationship, you can do so at this 24-hour bistro. Catz Pyjamas in Melville gives you the opportunity to have lengthy dates – allowing for you to have in-depth conversations with your partner without having to worry about closing time.
While some may envision a typical 70's American diner, this is a far cry from what diners actually experience at the Catz Pyjamas. With an unrivaled passion for food and staff who are continuously striving to understand the needs of their patrons, a dinner here is a true 'food experience'. For the veggie-lovers, choose the 'Aubergine Peanut Butter Curry'. This unusual dish is a flavoursome curry with a dash of peanut butter, served with lemon and coriander couscous, and a tomato or onion sambal. If you're looking for a carbo-loaded meal, the 'King Buffalo' pizza is just the ticket – served with toppings of fried potato, fresh tomato, salami, basil, cream cheese and sun-dried tomato.
The proverbial cherry on the top is that the restaurant is powered by a generator, making the Catz Pyjamas the ideal spot for those Eskom-induced nights in darkness.
If you're looking to experience opulence blended with culture, take a visit to the grand Ottoman Palace.
Situated adjacent to the Turkish mosque complex 'Nizamiye Turkish Masjud', you'll feel as if you've entered into a mini-Turkey before you've even crossed the doors of the restaurant.
The first thing you'll notice upon entering the restaurant is the prestigious decor with its majestic dining room, marble pillars and velvety pink carpets.
The restaurant is named after the Ottoman Empire – a 600-year period in history that saw the meshing of many cultures. Today, the Turkish culture along with its food is a blend of Asian, Greek, Middle-Eastern and European traditions. A meal at Ottoman Empire entices your taste buds because it infuses many international flavours in a single dish.
The 'Shish Kebab' introduces you to what Turkish cuisine is all about with its variety of flavours combined in one dish. The 'Ottoman Mix Grill' is a platter for two people – the ultimate date night dish!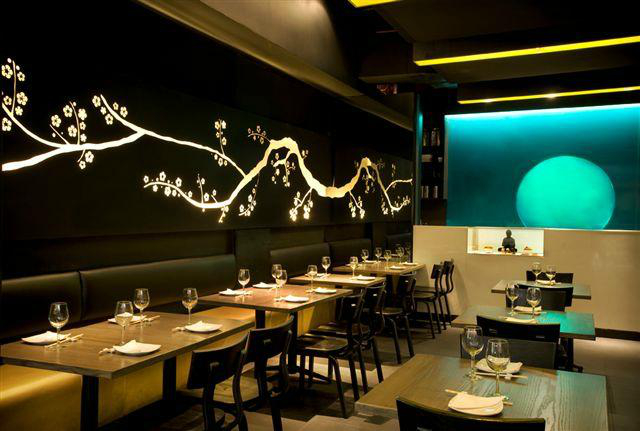 If you and your partner are fans of 'age-old Chinese cuisine', you'll enjoy a visit to So Yum. So Yum specialises in the ever-so-scrumptious dim sum – a bite-sized treat stuffed with either meat, seafood or a vegetable filling. These delicacies are skilfully prepared by being either steamed, baked or pan-fried.
Generally speaking, diners accompany their food by guzzling down a beer or a glass of wine. At So Yum, a cup of flower or fragrant tea is the recommended drink of choice – not only does it aid in digestion but helps to sate the appetite (helpful when you're experiencing first-date jitters).
While you'll be able to pick and choose from the extensive Dim Sum menu, we suggest that you try out the 'Crispy Money Bag'. This speciality dish comes with chicken and celery wrapped in rice paper and served with plum ginger sauce.
Dinner and smooth jazz – that's all you need out of a date night. At Jazz Maniac's Restaurant, this is ultimately what you get.
Named after the famous Jazz Maniacs of the '50's, the restaurant sees a host of jazz artists collaborate to produce sultry tunes. Diners can sit back, relax and enjoy some signature dishes.
In terms of food, there is a wide spectrum of choice. Due to the versatility of their chefs, patrons can opt for the buffet or get something off the 'Traditional Township Buffet Menu'. Start off with a refreshing ginger beer, followed by the 'Kliptown Mondo Salad' with olive oil and balsamic vinegar. For mains, opt for the 'Braised Traditional Lamb' served with 'uMngqushu' (traditional samp and beans).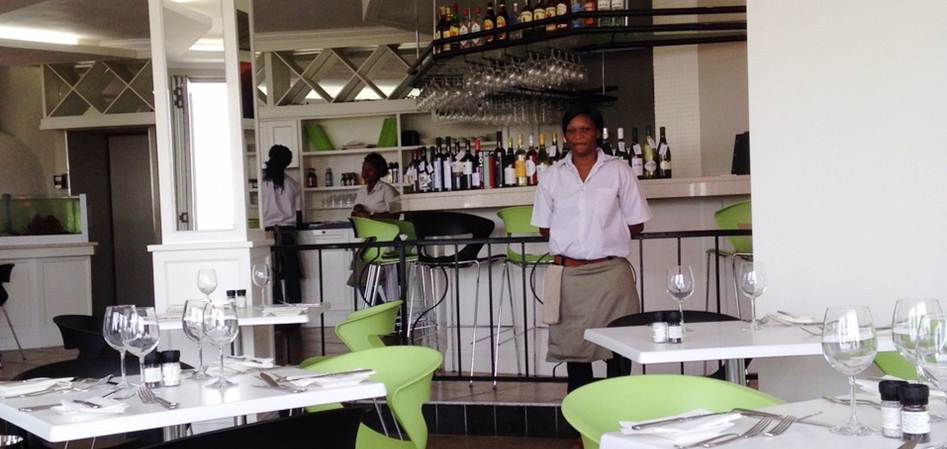 As you might have guessed from the name, Lobster Trap's speciality is seafood, and in particular, oysters and crayfish.
Not only will you be treated to delectable cuisine, but at Lobster Trap, you'll be inspired by the modern decor of the restaurant. The interior is sophisticated with a minimalistic colour scheme of mint green, white and black – allowing visitors to dine in a setting of understated elegance.
It would be a travesty to visit the restaurant without trying out their specialty. We suggest the 'Fresh West Coast Rock Lobster' (crayfish). If you've got an appetite and looking for more variety, the 'Bounty' comes with two baby crayfish, six medium langoustines, ten queen prawns, line fish, mussel and calamari – served with a choice of rice, homemade fries and complimentary lemon butter, garlic butter and peri-peri sauce.