If you were to sit down at a roadside restaurant in South Africa and ask the cook to whip up the most 'South African' meal he could think of, what would your lunch time spread look like? Diverse, that's for sure! Given South Africa's varied heritage and resulting cultures, it is no wonder that all this variety is reflected in the food. So, we invite you to join us for a virtual buffet of South African dishes, to give you a tiny taste of what's on offer in this vast and varied land…
Starters:
Walkie Talkies: grilled or deep fried chicken heads and feet – eaten mainly in the townships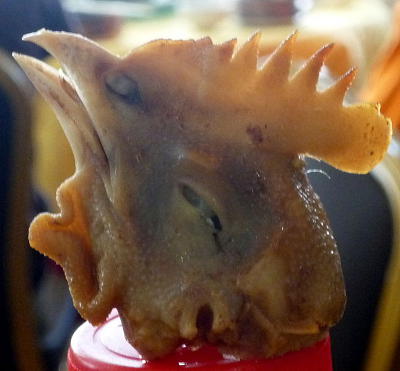 Biltong: dried, salted meat ranging from beef to venison
Mains:
Bunny chow: Indian curry served in a full, half or quarter loaf of bread. Has its origins in Durban, the area with the largest Indian population in South Africa
Boerewors: South African sausage – best cooked on a braai.
Dessert:
Koeksisters: plaited dough which is deep-fried and then dipped in syrup
Milk tart: a tart made from milk, flour, sugar and eggs, where the milk to egg ratio is higher than other custard-type tarts. The top is often sprinkled with cinnamon.
Photo credits in order:#1 #2 wiki commons #3 Luke Comins #4 Tempest SA #5 Arnold Goodway #6 Dimi Talen