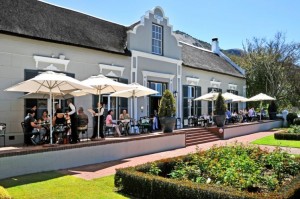 Diarise to spend time at the Grande Roche Hotel enjoying Culinary Innovations – a new take on the gourmet evenings.
Situated in the heart of the Paarl wine region the hotel is the centre of this wonderfully rich area so what better than to take an armchair journey with our chef through these winelands. These monthly events running from April are an opportunity to relax and unwind in the restful setting of the gracious hotel enjoying tastes of the regional vintners and Chef's deliciously innovative fare to match the wines.

Informal yet ever informative, guests will embark on a travelogue of tastings with local wine producers: meeting both familiar and new winemakers, discussing their products and soaking up the relaxing environment of the hotel.
Saturday April 21 was the first of these innovative gatherings as we enjoy the wines of Little Paarl. Focused on the more unusual smaller farms, we met the winemakers of Druk my Niet, Mellasat, Painted Wolf and Ridgeback. These tastings took place on the glorious Bosman's lawn allowing guests to enjoy the full splendour of the setting as well as the fullness of the wines of the Paarl region.
Friday May 25 sees stalwart Simonsig, an icon of the region, offer some new insights into their wines as we enjoy a gourmet dinner tasting and pairing – but with a twist! Time: from 7pm with welcome drink. Cost R365 per person food and wine included.
We have not forgotten the wintry months of June, July and August – book lovers (who also love their wine) will be delighted to join us as we launch a series of wonderful Fireside evenings with your favourite South African author. We explore the robustness of local novelists matched with the richness of our wines and food. Keep a look out for the dates and be sure to bring your friends to these additional Culinary Innovations! Time: from 7pm with welcome drink. Cost R365 per person food and wine included
September, with Spring in the air watch this space for a Spring inspired evening, details to be advised. Time: from 7pm with welcome drink. Cost R365 per person food and wine included Friday October 26 is when you can join us on a safari style evening as "Up and Coming" young wine makers Howard Booysen , Jurgen Gouws, Craig Hawkins, Johan Meyer present their wines at an innovative and unusual evening. Join us on this wine safari – when each of these young winemakers host a table where the dishes are specifically matched to their wines. Journey from table to table and taste the future of these new young producers. Prepare for some surprises that evening as we enlist some celebrity guests to add their flair! Cost R365 per person food and wine included
Saturday November 24th and now for something completely different we present "Bubbly & Braai." We believe that South Africa has some of the best Mèthode Champenoise wines in the world and we introduce to you the superb wine making skills of Avondale, Bon Courage, Saltare, Silverthorn and Teddy Hall. Expect to be served deliciously crisp bubbly, accompanied by an innovative braai. Think prawn skewers, oysters done in their shells to mention a few. This is a teaser to the upcoming Franschhoek bubbly festival in early December, what better way to launch into the summer season. Cost R400 per person food and wine included.