While we all enjoy a good Breakfast, there is nothing better than sleeping in on cold Wintry mornings, snuggled under the duvet in your favourite furry pj's. However, when 10am hits, the tummy starts to grumble and buttery croissants and cappuccinos are all you can think about. Don't worry, we're here to help – visit one of the following spots in Johannesburg for a delicious, leisurely brunch.
If you strive for health and wellness, then Aurelie's Cafe is your foodie dream. Located in Waterfall, Midrand, this cafe is a one stop shop where visitors can enjoy a delicious meal and shop for health supplements, home furniture and decor accessories. They have a substantial Breakfast Menu and all items are vegetarian, with a fair number being vegan.
Our favourite dish: The Pear, Onion & Goat Cheese Frittata – a roasted pear, caramelised balsamic onions and goat cheese baked omelette topped with walnuts, rocket and cherry tomatoes and served with toast.
MV Cafe is located in the Mountain View Shopping Centre in Northcliff and features a spacious, modern interior. Although the Breakfast Menu isn't large, we found plenty on the menu to enjoy for brunch; savoury and sweet pancakes, toasted sandwiches, gourmet sandwiches and a variety of snacks.
Our favourite dish: The Nutella Chocolate, Banana, Nuts and Coconut filled Pancake. Yum!
Much like the other Isabella stores, the Northcliff store is stylish and sophisticated. Reminiscent of Alice in Wonderland with black and white checkered floor, green fake grass, elegantly laid tables and sweet treats on display, this store has 2 levels and is bright and airy. The shop specialises in private functions and offers excellent service and quality food. Their Breakfast Menu is served all day which means visitors can enjoy a long, leisurely brunch.
Our favourite dish: The Big Dog Banting Burger – a beef patty smeared with cream cheese and salsa and draped with prosciutto, parmesan, rocket & a fried egg. With a little cheat of onion marmalade on the side.
Sister to famously popular Throbbing Strawberry, Mon Petit Throbb is conveniently located  next to Montecasino, in Fourways. This French-themed, bistro-style restaurant supports fair trade by using local produce and has an open kitchen so you can watch the chefs in action. The menu is expansive and interesting and includes a substantial selection of Breakfast items.
Our favourite dish: The Florentine – Smoked Norwegain salmon, creamed parmesan spinach and poached eggs with classic hollandaise.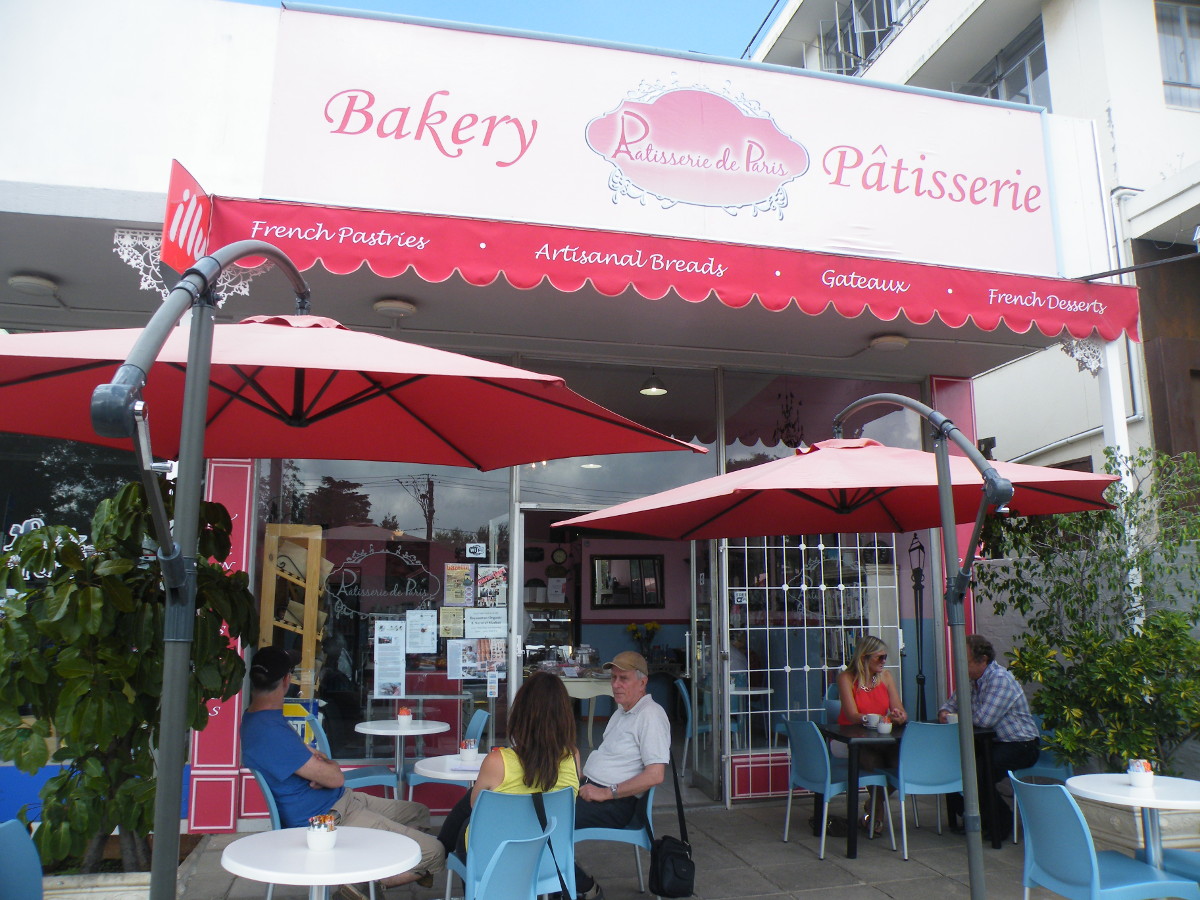 The Patisserie de Paris is a French-inspired patisserie, boulangerie and café based in Blairgowrie. Both the cafe decor and the menu is French themed and diners can enjoy flakey croissants and cappuccinos whilst listening to French music and reading a selection from their French cooking library or the daily paper.
Our favourite dish: French Toast "Magnifique!" – Two slices of home baked brioche bread in a sweet egg batter, maple syrup drizzle with a mixed red berry compote and lemon blended mascarpone cheese.
The Secret Garden is set in the peaceful gardens of Norscot Manor in Fourways. This family friendly restaurant offers an impressive play park for the kids and manicured lawns with extensive views with the adults. The Breakfast Menu is filled with all the traditional options as well as a open Sandwiches, Tramezzini's and Toasties. A special Kiddies Menu is also available and funny named dishes like Cheeezy Wheezy and Wheelie Bug Breakfast are bound to entice the little ones.
Our favourite dish: The BLTA Open Sandwich – a bacon, lettuce, tomato and avocado sandwich served on fresh health bread.

The Silver Birch Restaurant is set in tranquil gardens in Randpark Ridge. With gorgeous garden views, a monitored kids play area, pizza making facilities and a substantial menu, it's no surprise they were voted the best tea garden 11 years in a row.
Our favourite dish: The Farmer's Breakfast – two eggs, three rashers of bacon, grilled tomato, sautéed mushrooms, boerewors and chips, served with toast.
The Usual on Grant was opened in Norwood in August 2015 and soon became a hold-hold name for regulars. The Usual has a sizeable Breakfast Menu and most items are named after roads, streets and avenues. The Menu is divided into traditional breakfasts, omelettes, benedicts and healthy options so visitors are bound to find exactly what their tummy desires.
Our favourite dish: The Dorothy Road – potato hashbrowns on a balsamic glaze, topped with smoked salmon, a poached egg and avocado on the side.
This trendy restaurant and coffee shop is located in leafy Birdhaven, Melrose. Visitors can enjoy a leisurely brunch and then purchase a few treats from the deli to take home. The menu at Voodoo Lily Café focuses on fresh, organic and wholesome foods and are famous for their banting cupcakes. With a park across the road for the kiddies and a special doggy menu and water bowls for the furry kiddies, Voodoo Lily is great for the whole family.
Our favourite dish: The Babalas Breakfast – a homemade ciabatta roll with bacon, fried egg & local cheddar and a Jonlyn's Banting Berry Smoothie.
Zio G opened in Core Shopping Centre in Sunninghill with the dream to be the best pizza and cocktail destination in Johannesburg. While their pizzas are mouth-watering, they also make for a great brunch spot. With a large Breakfast Menu full of gourmet croissants, flapjack stacks, omelettes, scrambled eggs with sides and the usual traditional options, brunch at Zio G is bound to be a delight.
Our favourite dish: The Spinach & Feta Omelette served with toast.