Photo Credit: Thinkstock
Making that good impression on your first date is so important, it can set the tone for an entire relationship, and also (hopefully) ensure the second date. So number one on your checklist – Picking the perfect Restaurant to WOW your date. We have listed the Top 10 restaurants in Cape Town that have been voted for as "Best for Romantic Dates" based on guest reviews on Dining-OUT, to help you find that perfect place to either start a new romance or to help ensure that your existing one lasts forever.
Family-run Italian restaurant, Papino's, situated in the heart of Hout Bay, is all about good, traditional Italian dishes with a contemporary twist. The ochre walls, reminiscent of a Tuscan landscape, and romantic, almost sultry atmosphere with owner Tanya's personal attention to detail, make this restaurant a favourite with both locals and tourists.
"This is a date night place. The setting is romantic. The food amazing. My favourite is the Ostrich steak and would highly recommend this place. And the wine is good."
– Cindy Saal
The largest "wine by the glass" wine bar in the world is now situated in the V&A Waterfront, Cape Town. In the rich ambience of a wharf warehouse, Belthazar offers a speciality wine bar and world-class eatery at a prime location with spectacular views of Table Bay. A totally new experience in wining and dining, Belthazar also brings the exciting concept of "shoppertainment" to South Africa. Displayed in cabinets are glittering Riedel glassware, gift-packs and crystal duck decanters, wine aprons and accessories, stainless steel knives for the home gourmet chef, biltong knives and Belthazar house sauces.
"Most amazing calamari I've ever had. In my whole life. Grilled to perfection. Perfect flavours."
– Gillian Duggan
Situated at the top of Kloof Street overlooking the city, The Bombay Bicycle Club is Cape Town's wonderfully wacky, bohemian restaurant where locals let their hair down, sip on cocktails and tuck into an eclectic array of dishes from the bustling kitchen. The menu is a collection of all-time favourites which have enchanted diners over the years, complemented by ever-changing collection of specials which embrace local borough traders and keep even the most jaded palate amused.
"This has to be one of my favourite restaurants in Cape Town! The whole place is an exciting adventure from when you enter it's doors… The quirky décor and funky wait staff make this a memorable experience! We sat at the table with the swings and it was so much fun! We loved the vibe completely. Their cocktails are good and the food is excellent… I definitely recommend saving up and doing a 3 course dinner date with friends!"
– Akira Wing
Welcome to the gateway of Africa. Set between the picturesque view of Table Mountain and the tranquil blue waters of the Atlantic ocean, Karibu affords you the opportunity to experience the vibrant flavours of South Africa and be part of our unique theatre of dining. We invite you to encounter the ruggedness of Africa within the luxurious setting of our restaurant where a mixed fusion of African ambiance blends itself with the flavours of our rich and diverse cultural heritage.
"A true south African experience! Absolutely love the Cape malay tomato bredie and the live act is very entertaining. Great for tourists especially."
– Nicol Miller
The Shimmy Beach Club is Cape Town's premier multi-purpose venue, known for hosting some of the biggest summer parties and celebrations. While being known as the perfect place to dance the night away, the club has received much acclaim for its beach dining experience. Diners to the spacious 220-seater restaurant can feast on Mediterranean-influenced dishes, ocean-fresh seafood, veggie-friendly meals and mouth-watering pizzas.
"Awesome venue. Take off your shoes and party. Relax under cover or simply enjoy the sun (bring along your bathing suit if you like). Enjoy the pool. Great music. Awesome atmosphere. For all ages."'
– Rozee Hector
Welcome to Kitima at the Kronendal, where Oriental elegance and hospitality meet the unpretentious grace and charm of Africa. We sincerely hope that our authentic Asian cuisine, prepared by 5-star Thai chefs, will carry your senses to an exotic world of spices, perfumes and all that's precious – here, in the original, centuries old Cape-Dutch homestead. Thai cuisine is known for its enthusiastic use of fresh herbs and spices and is considered by many to be among the best in the world. It is a blend of Asian and European influences created through centuries of trade between continents harmoniously combined into something uniquely Thai.
"Officially my new favourite restaurant! From the moment we walked through the door we were treated like royalty, and truly felt like we might've been in a different country. The food was incredible and the cocktails delicious. You have to try the Kiwi and Passion fruit one! As we had their three course meal, I felt like the portions may have been small, but I was pleasantly surprised! We couldn't finish our food! Their crème brûlée might possibly be the best dessert I've ever eaten, and the lime tart was so beautifully plated! I'd definitely recommend this restaurant. Even if it's just for a drink at the Raya Bar!"
– Mandy Jones
The historic Roundhouse Restaurant nestled in the picturesque Glen on the slopes of Lions Head, with sensational views across Camps Bay and the 12 Apostles mountain range, has re-opened. Steeped in over 300 years of history, the former guard house, tea room, hotel and the hunting lodge of Lord Charles Somerset has been elegantly restored with the charm and sophistication of the Grand Old Cape.
"Exquisite food in beautiful surroundings. The service was absolutely faultless. Good wines as well. We had the 8 course tasting menu with wine pairings, everything was perfect."
– Cindy Saal
The Chapmans Peak Hotel is nestled in the historic fishing village of Hout Bay. The restaurant is at the foot of the famous Chapmans Peak Drive leading out of Hout Bay to the view point on Chapmans Peak. The 19th Century building creates a special atmosphere and is filled with memorabilia from yester year. The Nobrega family established this fine seafood restaurant over 25 years ago. The sun drenched terrace, ideal for those hot summer days and lingering sunsets, has spectacular view of the beach, Atlantic ocean and harbour activities in the background.
"A most memorable evening greatly enjoyed with family at Chapman's Peak Hotel. The Seafood dishes were all superb and the friendly waiter took great care of us throughout the evening. The ambience was wonderful and we enjoyed the fireplace tremendously. Although this establishment doesn't usually take bookings on public holidays they made an exception as I was celebrating my birthday which was fabulous. We'll definitely be back to enjoy another celebration. Thanks for making my birthday special Chapman's Peak Hotel."
– Helen Maroulis
Named after the year in which Steenberg was established, Bistro Sixteen82 first opened its doors in 2009, and has been the tapas and bistro-style darling of the dining world ever since. An innovative and interactive wine and food destination, the Bistro sits adjacent to Steenberg's winery, and spills into its surrounding indigenous gardens with a terraced dining area leading to reflective water features, unfurling into views of the magnificent stone mountains and expansive Winelands.
"What a wonderful quiet setting , so relaxing. The food and service was really brilliant and will definitely go back there again."
– Jannine Pretorius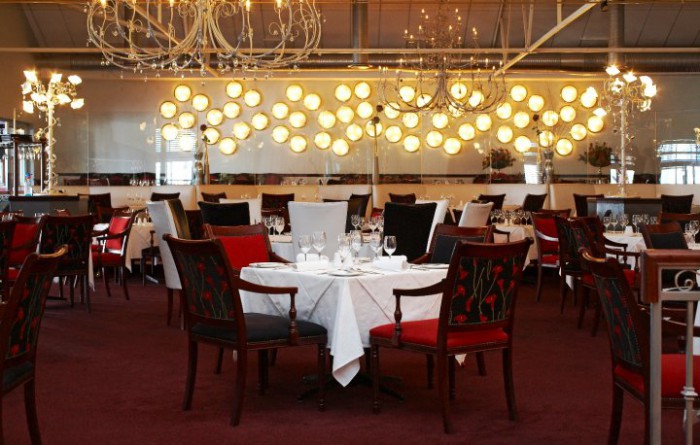 Pigalle owes its name to a vibrant square in Paris which is famed for its night life, and its name is certainly appropriate, as the restaurant overlooks the nightly hustle and bustle of Somerset Road where a huge revival has put Greenpoint firmly on the map as the trendy area of town. Owners Victor and Naldo Goncalves have many successful years in the restaurant industry, and embraced the challenge of converting a huge old ice-rink into a stunning 300 seater restaurant which simply oozes glamour from every pore. A spacious dance floor and a live band every evening, ensures that Pigalle is able to offer the very best in dinner dancing for its sophisticated clientele (including a fair amount of celebrities).
"One of my favorite restaurants in Cape Town. I've never had a bad experience. The staff is wonderful, the food is excellent and I feel it's value for money in Cape Town where most restaurants are quite pricey by comparison to the rest of the country. It's a must try, they're known for their seafood but they serve some amazing meats too!"
– Tiyaarah Cloete
——————————————————————————————
This sums up our Top 10 Restaurants for Romantic Date nights in Cape Town, as voted for by guests on Dining-OUT, to help you make a lasting impression! Just remember, you too can have your say, and vote, all you have to do is visit a restaurant listed on Dining-OUT, and click on the option "Write Review" vote and let us know about your experiences, and you too could be featured in our Dining-OUT Blog!