What better way to escape this African summer, than a cool tasty Milkshake! Back in 1885 the first milkshakes were alcoholic beverages, but rose to the drink we know today in the early 1900s. Most of us have grown up with the basic flavours strawberry, chocolate and vanilla but as the interest and want of gourmet milkshakes grew, many became aware of the "gap" in the market and embarked on their own journeys of creating imaginative milkshakes that have rocked the dessert world. We have compiled a list of our favourite gourmet milkshake options around Cape Town, Johannesburg and Pretoria to put the sprinkles on your summer! Enjoy!
1. Craft Restaurant – Parkhurst, Johannesburg
This steampunk style artisanal restaurant offers some of the best gourmet milkshakes in Parkhurst. Their beautiful milkshake designs will leave you astounded and definitely back for more. At craft they are known as "Freakshakes" and as they come with an array of toppings from whole Oreo biscuits to candy, there is something for everyone.
2. Protea Hotel Fire and Ice! – Cape Town Central
Protea Hotel Fire and Ice! Not only are they known for their quality accommodation, but also their delectable gourmet milkshakes. Served in a large dome glass, these tasty treats are packed with ultra-creamy flavour and come in a large variety of flavours with over 20 on offer!  For the chocolate lovers there is the Aero Attack, Chunky Crumbs (brownie pieces) and the Lindt-o-licious or if you prefer a fruit based milkshake, they offer the "Life is just Peachy" (peach and cream) or the "Tutty Fruity" (mango, orange and jelly tots), there are very creative ones as well such as the "Ouma and Oupa" a magical blend of carrot cake and rooibos. There are just so many to choose from!
3. Hudsons The Burger Joint –  Cape Town, Johannesburg and Pretoria
Hudson's The Burger Joint has various locations across South Africa and are very well known for their gourmet style burgers on offer. However, this American-style diner would not be complete without its own speciality gourmet Milkshakes, and Hudson's excels in this regard. They have a few select flavours, that are simply delicious, the favourite being the "Cookie Monster" shake topped with a HUGE chocolate chip cookie. Hudson's is definitely the place to have a true American experience.
4. The FUE / Festive Underground Eatery – Table View, Cape Town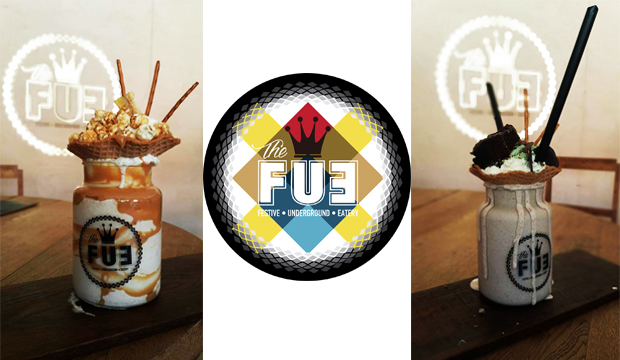 This fairly new eatery opened in November 2015 and has created quite a splash in the food scene in Table View. This unique establishment favours locally sourced, high quality, artisanal ingredients and serves a variety of breakfasts and lunches including their decadent "Monster Milkshakes" some of which are piled high with homemade donuts and can come in a 1ltr jar. This restaurant is a must try for all dessert lovers out there!
5. Ginger and Fig – Brooklyn, Pretoria
Located in the upmarket Brooklyn centre in Pretoria, this trendy artisanal eatery focuses on simple, well-balanced, mouth-watering dishes. They boast an array of sweet treats and although their milkshake menu is not very large, they do have interesting flavours such as miso, peanut butter and chocolate; yoghurt, mint and ginger; caramel popcorn; and passion fruit and shortbread. Definitely worth a try!
This sums up our favourite milkshakes around Johannesburg, Pretoria and Cape Town, and we hope this helps you find your favourite too!