My mother always told me that breakfast is the most important meal of the day, it is your nutritional "kickstart" to get your day moving. Everyone has their own preferences, from fruit and yoghurt to a full English breakfast with all the trimmings, it's all about what gets you going in morning. We have compiled a list of our favourite breakfast spots around South Africa to start your day.
Located in Cape Town's bustling CBD, Hemelhuijs Restaurant is known to have some of the best breakfasts around. This trendy eatery, with its whimsical displays of fresh flowers and object trofée, is a small oasis in the heart of Cape Town. The delectable unique breakfasts range from poached farm eggs, artichoke, hollandaise and smoked trout or bacon to homemade potato rösti with salmon gravlax and soft poached egg, another definite try would be their delicious French toast, pecorino, homemade prickly pear syrup and bacon. So if you want to try a unique delicious breakfast, give them a try. (Photo credit: Jaclyn Clare)
This French style Café and pantry, located in the trendy Chelsea village in Wynberg, believe in producing traditional product with an unconventional twist.  It is the hot spot for your classic breakfast, but if you are feeling a little bit adventurous there are not so classic breakfasts too! There are amazing breakfast options such as the Oriental Eggs Be-Lean which consists of pan-fried mixed exotic mushrooms, two poached eggs, Umami hollandaise, buttery edamame beans, sesame oil sesame crusted crispy bacon or the Breakfast Tartine which is brioche toast brushed with truffled butter and local brie, pan-fried porcini, poached egg, tender baby spinach, avo (seasonal) and tangy tomato currant relish.
Dario's Café is an authentic Italian restaurant situated near the beautiful main beach of Hout Bay. It's homely and welcoming atmosphere makes it a favourite amongst locals, all their ingredients are locally sourced and they only use free range products such as meat, chicken and eggs. Their traditional Italian breakfast range is quite large with Banting options too, for the carb conscious. Definite must try's include the Fontana di Trevi with 2 eggs, 1 sausage, tomato, bacon, mushrooms, baked beans and 2 slices of toast or you can go for the New Via Frattina (Piadina Breakfast) which consists of bacon, scrambled eggs, cherry tomatoes, mozzarella, sweet chilli sauce and rocket.
This ultra-modern eatery is home to some of Johannesburg's best breakfasts. They have a beautiful option of alfresco dining so that you may enjoy a tasty breakfast with a side of fresh country air, but their breakfasts truly steal the limelight here. You have so many different options that steer away from the conventional breakfast such as the Awakening, which comes in the form of 2 cheese and olive bourekas accompanied by 2 boiled eggs, Labneh cheese and chunky tomato, cucumber and parsley, there are delicious waffle options as well such as Waffles: First Prize which are waffles decorated with crispy maple-grilled bacon, fresh strawberries and kiwi. It's a perfect start to your day.
All food is freshly prepared using the best ingredients at this lovely little café in Parkwood, the breakfasts are conventional but fresh and delicious. Park Café also boasts a range of speciality breakfast treats that are quite generous and will tantalise the taste buds, these include French Toast with Cinnamon, Fruit & Nuts, or Crumpet Stack with Cream, Syrup & Berries as well as their take on tasty creamed eggs. This charming café is a must try when starting your morning adventure in Parkwood.
This new kid on the block has created quite a stir with its amazing Middle-Eastern menu, where every single item contains an egg! There are a few brilliant breakfast options keeping true to the Middle Eastern theme, such as the Red Shakshuka, a vegetarian dish consisting of egg poached in a Middle-Eastern style tomato sauce with garlic, onion, green pepper, olives, herbs and spices. Topped with lemon juice and coriander served with Yemeni flatbread and Pablo's homemade hummus and Israeli salad or if you would like something more traditional they have an innovative "Build your own breakfast" option where YOU select each and every item for your plate, which makes this gem a must try in Melville.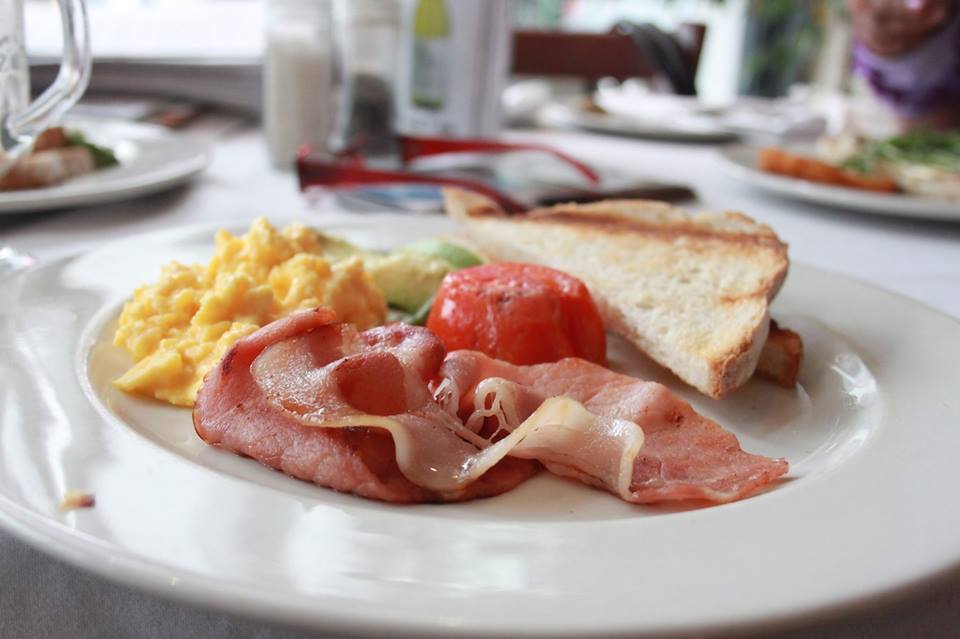 Chez Nous was been in existence since 2007 however, they have undergone a revamp with a complete overhaul of the restaurant and the menu that has caused the quaint eatery to become a local favourite. The breakfast menu consists of traditional English breakfast delights and their portions are generous, so come hungry and experience an appetizing delight such as their eggs benedict, an English muffin topped with country ham or smoked salmon, poached eggs and hollandaise sauce with black sesame seeds. There is a vegetarian option which includes a giant black mushroom, hollandaise sauce and crumbled feta or alternatively you can opt for their cheesy omelettes with a variety of delicious toppings. There are a few other options to choose from too.
Our second Italian style restaurant on the list, Spiga never disappoints. This crowd favourite is located in Morningside Durban and offers a delectable array of Italian cuisine, with a traditional spin on its breakfasts. Spiga is run by the Santoniccolo family and is a must visit destination for any hungry traveller. The breakfast menu is limited in size but definitely not in taste and all include a homemade Italian toasted bread. Good options definitely include the Frittata Fetaeriana consisting of homemade Italian toast, red peppers, yellow peppers, mushrooms, onions, whisked eggs, Danish feta and fresh chopped rocket or the Spiga Roma Al Forno which is homemade Italian toast, scrambled eggs, the best Bolognese and mozzarella. Durban with an Italian twist!
This sums up our list of tasty breakfast spots to try around South Africa and we hope this helps you find your favourite too.