The tables are beautifully set, with extra attention to detail for this special occasion @dieblouhondtuis #soldout. The food is delicious: from the Trout Terrine starter to the Strawberry Panna Cotta dessert.
Host Philip Moolman tells of some exciting things: From 3 'craft beers' now available, the Sensi Spa as well as the LeSi Singing Waiter Experience (which includes a 6 course meal). He shares one of his latest compositions "You're My Valentine" with the audience, followed by "Forever in Blue Jeans". As is tradition for many years now, he concludes with the beautiful "Blue Dog" prayer.
Pre-program singer, Shoneill, opens her program with "Bette Davis Eyes". The brunette of Secunda also sings one of her own compositions "Maanskyn & Rose". Then follows with "What's Going On" (from 4 Non Blondes) & concludes with an original composition by Emile Swiegers "Five Minutes".
'Touch of Class' – Ruhan du Toit (lead vocalist & acoustic guitar) & veteran Deon van der Merwe (electric & acoustic guitars) – breaks the ice with their rendition of "Sweet Caroline" (Neill Diamond), with the audience singing along all the way.
Even through the dreaded load shedding, the show goes on with "I Can't Help Falling in Love" (Elvis Presley), "Tonight" (from the opera La Traviata) & "Have You Ever Seen the Rain" (CCR). The show consists of hits that we all know & love, performed by two talented, seasoned entertainers: "The Story" (from Grey's Anatomy), "Perfect" (Ed Sheeran), "Blue Spanish Eyes" & "Amazed" (Lonestar).
Ruhan meets a special request with "Sound of Silence" (Simon & Garfunkel), followed by "Dance With Me" (Johnny Reid), "Bed of Roses" (Bon Jovi), "Lady in Red" (Chris de Burgh), "Make You Feel My Love" (Bob Dylan) & "The Gambler" (made famous by Kenny Rogers) & "Alice" (Smokey). Also "Hallelujah" (Leonard Cohen) – one of my favorite versions – "Purple Rain" (Prince) & "Cry to me" (Staccatos) is masterfully interpreted.
Ruhan stated that "Touch of Class" plans to release a new CD at the end of May & that their next show will take place at Die Blou Hond on the 13th June. We look forward to it!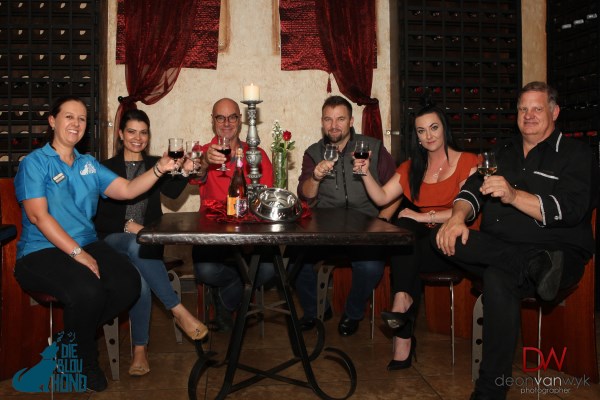 Remember to book a table for your special occasion, well in advance.
Written by Marné de Kock