The year is well underway and it's time to start putting those New Year's resolutions into action. Put those fast food meals to the side and draw up a healthy eating plan. If you're worried that sticking to nutritious meals might dampen your dining out experiences, don't worry, there are several restaurants in Cape Town that are dedicated to providing wholesome, flavour-filled meals. Take a look at our comprehensive guide to the best health eateries in the Mother City.
Spirit Café in Constantia is dedicated to providing healthy, fresh options to the Cape Town public. Their menu is wide ranging – from health foods and raw juices to vegan-friendly dishes.
For breakfast, swap out that grease-laden fry-up for a 'Spirit Muesli Bowl', a meal of superfood muesli topped with yogurt and seasonal fruit.
For lunch, enjoy a 'Soup and Salad' – once you've finished slurping a piping-hot bowl of soup, cool down with a crisp salad.
If you're looking for a quick pick-me-up after the gym, the raw juices are a must-try. 'Jou Ma Se' is a refreshing drink which combines pineapple, cucumber, celery, ginger and cumin seeds.

Plant is a haven for Cape Tonian vegans who live in the city bowl – here you won't have to resort to choosing a flavourless meal as the eatery provides an endless selection of plant-based food options.
With a focus on clean, healthy cuisine, diners can enjoy good food while knowing that no animals were harmed in the preparation of the meal. Furthermore, it is a good way to introduce meat-eaters to the joys of veganism.
Plant are renowned for their classic hot breakfasts, so if you're looking to start off your day with some wholesome meal, the 'Traditional Vegan Breakfast' is our recommendation.
For a midday feast, the gluten-free wraps are light on the stomach and burst with flavour – opt for the 'Vegetable Thai Wraps'.

Mynt Café is located on the trendy Victoria Road strip in Camp's Bay. Not only does the restaurant provide patrons with the finer things in life – cocktails with views of the ocean in an upscale setting – but their mantra in the kitchen is to provide uncomplicated cuisine that won't clog up the arteries.
Their 'Protein Pancakes' are a great start to the gym-goers day, providing one with all the necessary nutrients. These whey powder-based pancakes are layered with blueberries, banana, mixed nuts and honey.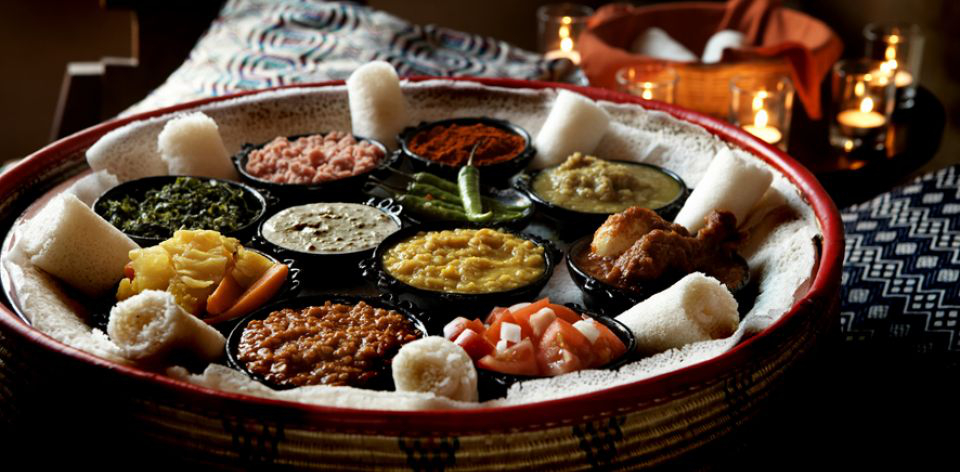 Addis in Cape grants diners a glimpse into another African culture – providing an array of exotic Ethiopian dishes
You won't find carb-concentrated meals on the menu here, as most of the dishes fused with vegetables, Ethiopian herbs and spices.
For a wholly unique tasting experience, the 'Kategna with Ayed Beaman and Azifa' is highly recommended for those wishing to immerse themselves in the Ethiopian way of life. This dishes is lentil-based, served with the chef's uniquely-designed salad, a homemade cottage cheese mix and sautéed spinach.

Da Vinci's on Second has been dubbed one of the best pizza places in Harfield Village. While pizza isn't normally associated with all things good and healthy, their wide range of banting pizzas are simply delicious and easy on the waist.
If you're looking to ease up on the cheese as well as the carbs, 'Verdi' comes without the usual mozzarella and is topped with pesto, feta, walnuts & fresh avo, rocket & cherry tomatoes.
While pizza is what they're known for, they also have a wide selection of salads to choose from. The 'Quinoa Salad' is a favourite for those on a health kick and comprises of gluten-free quinoa, feta, olives, cherry tomatoes, pepper, corn and minted yogurt.
La Belle Café and Bakery is the hidden gem of Constantia Valley, providing tasty food without the added calories. Meals available at the café are light yet satisfying, catering to all your dietary needs.
Their organic salads are the talk of the town – served with herbs, vegetables and trimmings that come straight from their garden and onto your plate. If you're not much of a lettuce-muncher, give their speciality fish cakes a try. This dish is served with a helping of Asian greens, wasabi mayo, chilli, ginger and coriander.
If you're there for a refreshing cool drink on a hot, summer's day, La Belle Café is known for their raw juices and iced teas. The 'Chilli Queen' has a bite to it or if you aren't feeling too daring, the 'Lemon and Apple Ice Tea' is an unbeatable thirst quencher.

Mango Ginger's philosophy is prepare meals that are healthy, full of nutrition and burst with all the flavour. This Observatory-based eatery, uses when possible, organic flour, pure fats and fresh produce are used in the kitchen.
Popular on the menu are the wheat-free organic pies, while soups and quiches are available on the daily and make for a delicious light lunch.
If you know of any good health restaurants in Cape Town, please comment below.