Although we have our fair share of unusual restaurants in South Africa, the rest of the world most certainly wins this one. Dinner in the dark, below freezing temperatures, furry waiters and dizzy heights are just a few of the dining experiences on offer. Here are our Top 10 Most Unusual Restaurants in the World.

10. The Exchange Bar & Grill, New York City
New York City is home to a stock market themed restaurant called The Exchange Bar & Grill. As the name would suggest, the prices for food and drinks fluctuate according to demand and a ticker is displayed behind the bar showing current drink prices.
9. Dinner in the Sky – Montreal, Canada
The Dinner in the Sky concept is a simple one; one table 50 meters in the air, seating 22 diners, a few chefs & servers and spectacular food. While the platform is safely secured and diners are strapped into racing seats with safety harnesses, this experience is most certainly not for the faint-hearted.
8. Redwoods Treehouse – Warkworth, New Zealand
The Redwoods Treehouse is a pod shaped restaurant that has been built around a Redwood Tree and is 10 metres off the ground. It holds 30 seated guests or 50 standing guests and is available for private functions only. Its' only access is by an elevated walkway.
7. Ithaa Undersea Restaurant – Rangali Island, Maldives
It comes as no surprise that Ithaa Undersea Restaurant, in the Maldives, was rated "the most beautiful restaurant in the world" by the New York Daily News in 2014. The restaurant is situated 5 metres below sea level and offers incredible views of the ocean and colourful marine life.
6. O.NOIR – Toronto, Canada
Toronto based restaurant, O.Noir, is all about stimulating the senses. It offers all the usual food and drinks but diners enjoy the fare in the dark as O.Noir believes that this heightens the senses. The waiters and waitresses at O.Noir are all visually impaired and an evening at O.Noir also gives the diners a better understanding of what it's like to be blind.
5. Ice Palace Restaurant & Ice Bar, Shangri-la Hotel, Harbin, China
The Ice Palace Restaurant is a dining establishment in Harbin, China that is made entirely of ice. The restaurant is kept at a cool -18 ℃, has four private rooms and seats about 90 people. To keep the chill away and allow a longer stay, the Ice Palace provide guests with mini heaters and gloves and you will even find a small electric heater under each table.
4. Robot Restaurant, Harbin, China
The Robot Restaurant can be found in downtown Harbin, China, and as the name suggests, has robot staff instead of humans. The robots are 4 four feet tall, have different facial expressions and are programmed to cook, serve and entertain the guests.
3. The Clinic, Singapore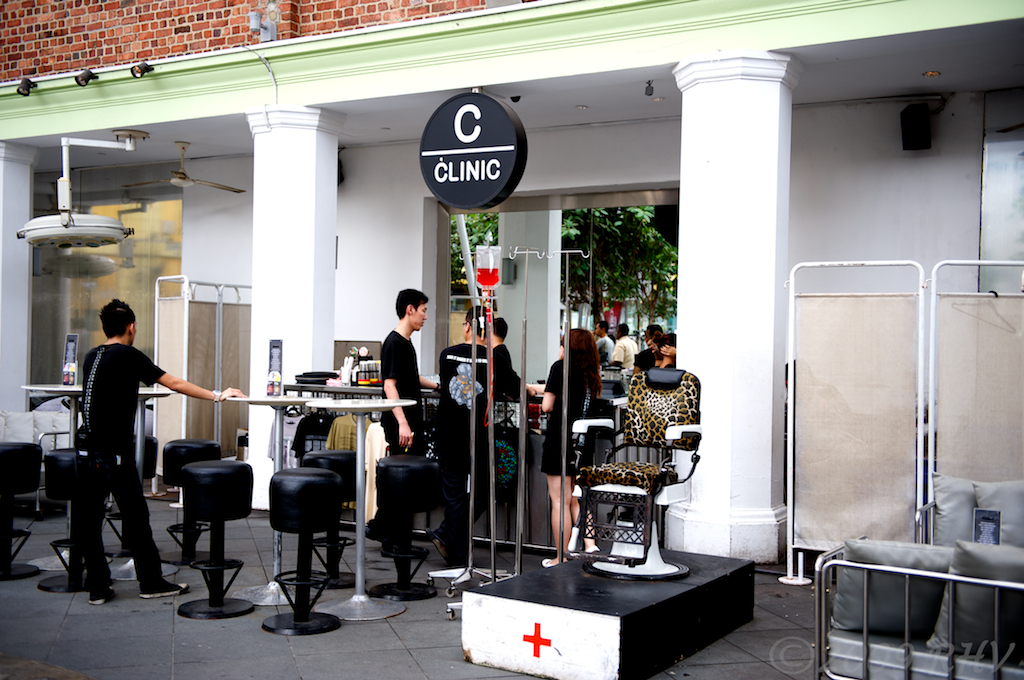 The Clinic is a medical themed bar and restaurant in Singapore. Hospital beds and gold wheelchairs form the seating and medical screens, skeletons and operating lights are dotted here and there. The waiters are dressed in white coats and drinks are served straight up, in test tubes or in IV bags for a slow buzz.
2. Izakaya Kayabuki, Japan
The Katabuki Tavern is essentially a sake house in Japan, sporting the usual red lanterns and Noren curtains. The staff, Yacchan (18 years old) and Fukuchan (8 years old) are both macaque monkeys from the Tochigi mountains. They are only allowed to work 2 hours a day according to labour laws and spend this time welcoming guests and distributing hand towels.
1. Modern Toilet – Taipei City, China
Perhaps the strangest of our top 10 selection is the Modern Toilet Restaurant in Taipei City. They must be doing well as they have opened 2 other branches in Taiwan. Drinks are served out of urinals and curries and desserts are served out of garish toilet bowls. Guests perch on toilets whilst eating over tables made out of baths and one can even buy toilet themed souvenirs to take home.