Hamburgers or burgers have a rich history dating all the way back to the 1700's and has earned its top spot as the world's favourite sandwich. The gourmet burger craze has capitalized on the public's long standing captivation and love of this delectable treat and has grown from strength to strength, stopping the 'naysayers', who predicted its demise, in their tracks. Some love them based on the tasty meat patty, and for others its all about the trimmings on offer, so in honour of the Burger, and Dining-OUT's new "Best For" collections, we have listed Dining-OUT's Top 10 best restaurants for burgers in KwaZulu-Natal, as voted by you our guests.
The Shed is a new restaurant based in Salt Rock, KZN. Their vision and mission is to create a relaxed atmosphere with amazing food, drinks and service amongst the beautiful trees of The Litchi Orchard. Their menu lends itself to a sharing style of eating which is what the owners love to do at a restaurant. Book a table with some friends, order a whole bunch of foods and share amongst each other, getting a small taste of everything. This is where The Shed slogan "live simple – share often" derives from.
At Unity their philosophy is quality, sustainability and taste and their meat comes from sustainable sources in the KZN area often straight from the farm. After living and working in Durban restaurants for years, the owners are devoted to supplying unity with really good ingredients. "When we opened Unity it was decided that this was the route to go. Simple, flavourful and local." Some of their stand out burgers includes the Blue Cheese, Onion Marmalade & Rocket Beef Burger and The Mexican – Free range beef burger, cheddar, guacamole, sour cream, jalapeños and tomato salsa
"The burgers are amazeballs and if you are into craft beer, this joint is the perfect place to be. Its a vibey awesome spot for after work drinks accompanied with great service."
– Kereshnee Pillay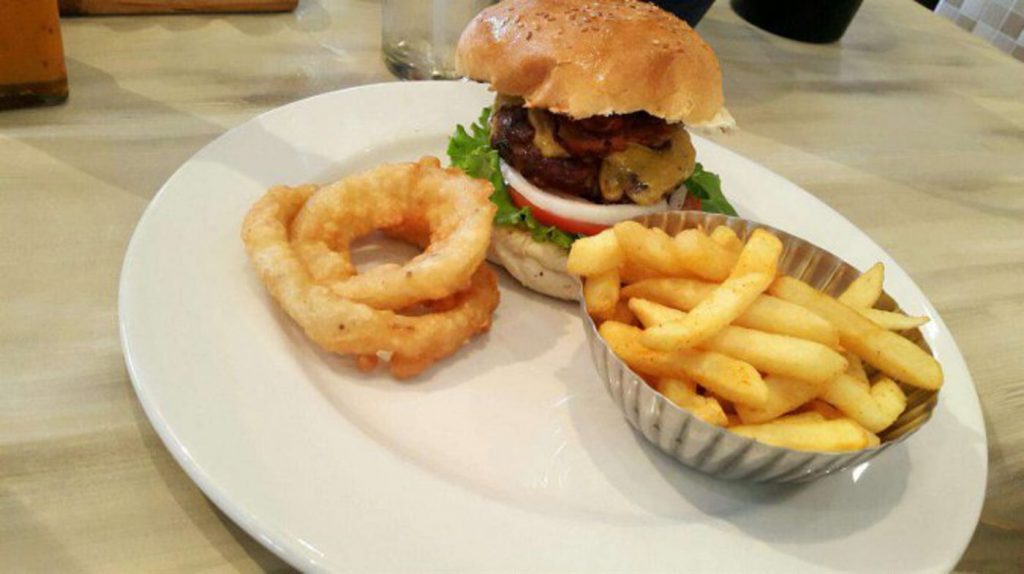 Steak & Ale has the best position on the Umhlanga "strip" and is raised just above the street. The restaurant is surrounded with glass overlooking the hustle and bustle of the hospitable Chartwell Drive. Boasting a steakhouse style menu, and very tasty burgers, meat is the order of the day. Their meat is aged and is 100% organic, which shows why Steak & Ale have been voted as great for burgers by our guests.
 
The Blue Zoo Café & Garden Restaurant is in one of the most picturesque settings in Durban. This is one way of describing The Blue Zoo, which nestles among the splendour and serene atmosphere of Mitchell Park in Morningside. The Tea Gardens at Mitchell Park has been something of an institution over the decades, but it was only in the 1990's that The Blue Zoo was born. Their menu is quite extensive and caters to all tastes, but give their delicious Gourmet Burger a try.
PRIMI  Station 4 in Gateway, named after an Italian firehouse, is aptly situated in an old fire station. Owned by two Italian brothers, the restaurant prides itself on authentic cuisine – their mother still hand-makes the restaurant's gnocchi daily and they refuse to serve anything less. Inspired by Italian tradition but influenced by the cosmopolitan present with Traditional, Gourmet and Comfort Food offerings. The food is a masterful display of culinary simplicity and complexity in perfect harmony, with all menu items freshly prepared from scratch using only the finest sourced ingredients.
"I am a regular at Primi Gateway. I love their thin base pizza's and creamy pasta's. The food is always good and their jam jars are incredible! You should definitely give this branch a try."
– Yajna Pale
Located right on the shores of Casaurina Beach, Beach Bums is an idyllic destination situated a short drive away from King Shaka International airport. The venue is quite unique! Put your toes in the sand with their laid back atmosphere by day and their up-tempo life at night. The restaurant features "relaxed cuisine" and a varied menu with options for light dining such as their gourmet pizzas and burgers as well as the Chef's creative preparations of the specials of the week.
The sophisticated, stylish and classy Gianni's Ristorante has a menu to match with something to offer every diner for every occasion, all with breath-taking breaker sea views. On a clear day the full Southern Coastline from Ballito to the Bluff is visible. The Ristorante offers not only delectable dishes for every palate but tasteful live music and a small dance floor for the Friday and Saturday evening Dine and Dance. Even though they only have one burger on the menu, it has proved to be a crowd favourite – The Romano Burger & Chips, is a 200g burger loaded with 2 rashers of crispy bacon, cheddar cheese, grilled onion, tomato relish, topped with a fried egg, and served with chips.
"Awesome lunch great service, stunning unbelievable views."
– Juliette Robertson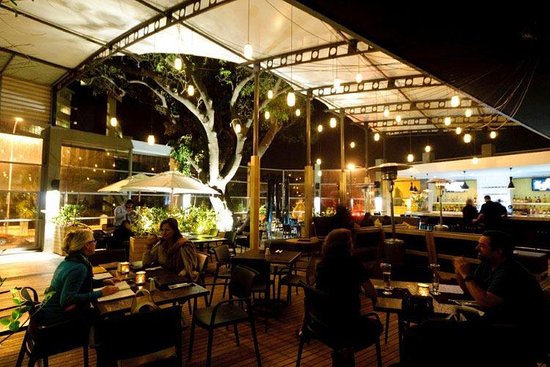 The Bertoua experience is unique in its combination of globally influenced cuisine such as warm, exotic flavours ensuring every plate is a cosmopolitan flavour sensation and work of art. Combined with their elegant décor, expert mixology at our visually astonishing bar and attentive service, every customer is guaranteed a superb experience. Their Burgers and Beyond menu is home to some creative burger combinations such as the Cheese Jalapeño Burger, a 200g Beef patty stuffed with cheddar wrapped with bacon and jalapeño mayonnaise and the Chicken Prawn Burger – grilled chicken fillet, angel hair prawns, fresh sliced avocado and Marie rose sauce. A definite try for those in Musgrave.
Founded in 1987 by franchisor, Ronnie Dick, the ever – popular Steak Ranch concept has a strong family tradition with traditional booth seating and a comprehensive menu selection. The Grill House concept at the Umhlanga Pearls is reminiscent in style of a private dining room with white table cloths and offers a menu featuring the best of the best. So, whether you visit for lunch, dinner or a private function, the Cattle Baron is the perfect venue to relax, unwind and enjoy dining perfection. They also feature amazing burger nights so be sure to check them out.
10. Stretta Café – Hillcrest
The original Stretta Cucina at the Heritage Market in Hillcrest (opened 2010), was long and thin and so thus named after the Italian word for "narrow kitchen". Stretta Cafe opened at its current location at the Colony Centre, Hillcrest, in July 2013, with the addition of some of Durban's best coffee and baristas, in the form of Lineage coffee. Stretta does simple fresh Italian. It's not complicated or pretentious: It's about people getting together and enjoying good food, at a reasonable price. Although their Burger menu is limited they are known to be quite tasty, they also offer banting burger options as well as a scrumptious steak roll.
And that's it! The top 10 restaurants that have been voted as "Best for Burgers" in KwaZulu-Natal by reviewers on Dining-OUT.